How Much Does Flutter App Development Cost?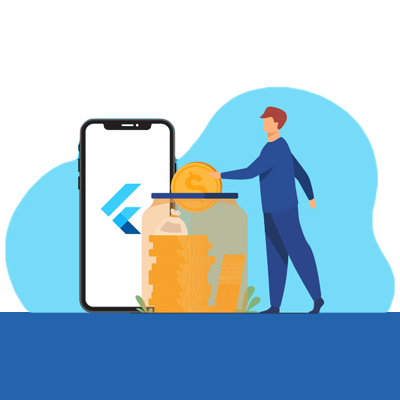 We are going to cover below points in this blog:
What can be the estimated Cost of Flutter Development?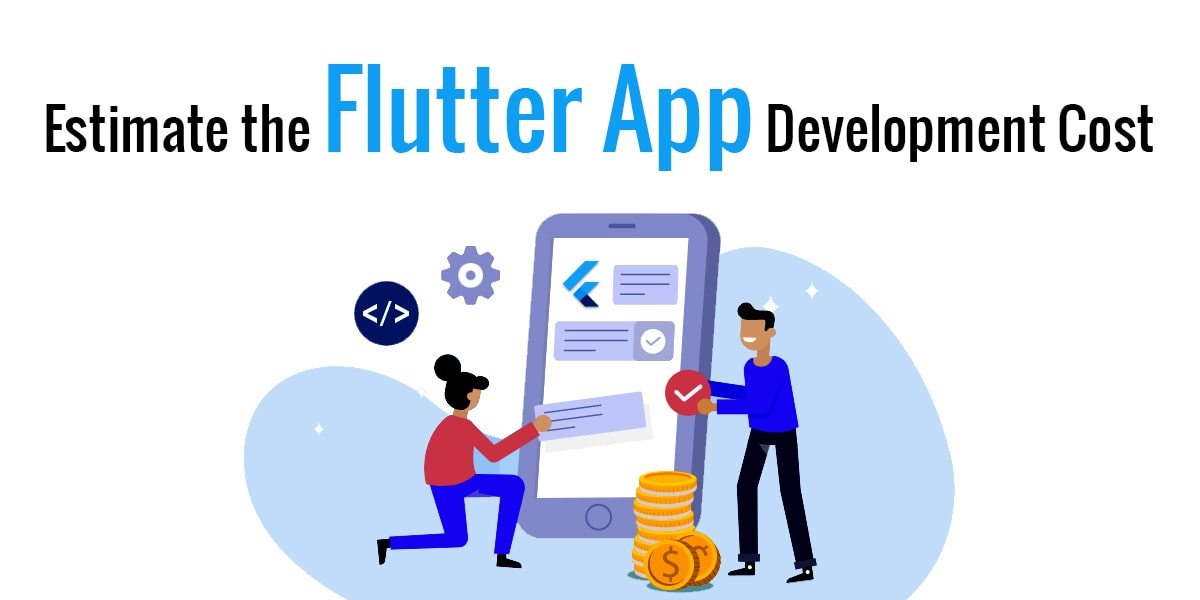 It's a fact that apps have made our life simpler, faster and quicker, enabling almost everything is possible just by a click.
Business owners have been opting for apps for business promotion and it's smoother working. Most preferred framework for mobile app development nowadays is flutter because of its compatibility to run on multiple platforms like Android and iOS. It results in cost reduction.
The cost of developing an app on flutter depends on various factors. They are as follows –
The processes include UI/UX designing, platform-based application development, front-end, and back-end development, quality assurance, and support. Further, the app development cost depends on factors such as complexity of the app, apps UI requirements, mobile-specific features, user-generated content management, and external API integrations.
The application development cost is majorly dependent on the time taken to finish each process. The more time taken to finish the project, the more time and resources are utilized for the same, increasing the cost which in turns amplifies the budget of the app. On the other hand, Flutter takes only half the time to build an application. As it comes in the form of a portable UI toolkit, it is loaded with all the required features to build apps in a shorter time.
Let's explain all the factors one by one:
Designing:
Design is like the silent ambassador of your product/brand. An App design is the first thing that anyone notices first while using it. It consists of UX and UI. A design is an amalgam of 2 things-
Building a smoother & convenient user experience
Appealing outlook for the app with amazing colours & UI
Sync and integration between the UI & UX are necessary for a satisfactory user experience. The look & feel should keep the users engaged and seek for more every time they use the app for services. UI/UX development thus plays an important role in estimating the cost of Flutter app development. Following are the features which help in deciding designing cost.
Design
Animations & Graphics
Interactivity
Backend:
Mobile app development is impossible without a backend. Backend is an integral part of the app development process. The app data, server, real-time chatbots, application security, and data backups are all controlled at the backend.
All the data of the user is stored by the database to offer customers a better user experience.
The server manages multiple client requests and their operations.
The backend supervises all the data encryption and security codes in an application.
It stores the backup of all the data.
Functionalities & Integrations:
Modern-day app development requires the latest functionalities & integration to survive the cut-throat competition & avail the users with the best. Whether it is a game or an online store, an app's functionalities play a vital role in attracting users.
A tailor-made app which infuses a customer-centric approach in building the app surely incurs more expenses in terms of budget of app development. The cost also depends on the type of application.
Majorly there are three types of applications in the market.
List View Application – It is the optimized version of the company's website with a host of basic features in the application menu.
Dynamic Application — Applications which provide real-time access to data for personalized user experience. Dynamic in nature, some of the examples of these apps are Facebook, Instagram, etc.
Gaming Application — Applications with high-resolution animations, 3D graphics, AI-enabled features and more are included under gaming applications, these can be simple as well as complex.
App development depends on users' requirements including basic features and add-on integrations making tailor-made solution the best one for them.
Further, one can also integrate the following functionalities in your mobile as well as Flutter application:
AR/VR based applications
SMS gateways
Payment gateways
AR navigation & Geo-positioning
AI Chatbots
3D modelling
Push messages
Social integration
Healthcare application with body sensor
Maintenance & Support:
Developing an app is just one phase whereas its maintenance is other. Maintenance of app at regular interval is a must for a better working & user experience. Developers have to prepare countless updates and improvements based on user reviews/ feedback and the latest trends.
Considering maintenance cost from the start of the app development is essential to avoid any future blunders. After the launch of the application, one might receive numerous feedbacks about the app which mainly depends on customers usage & experience. It is necessary to make small changes or updates to an application depending on their feedback.
The maintenance cost of a mobile app also includes backups of the app data, system uptime and server scaling as well. Regular changes & updates in the app help in removing basic errors and fixing bugs. For an app to be successful, maintenance is thus a must.
FAQs About Flutter and its Development Cost
How Flutter Reduces the Cost of Application Development?
Cost-cutting is possible with Flutter mobile app development as it comes with several factors like a single codebase, low developmental effort, low maintenance timeline, etc. These play a major role in cutting down the overall cost.
How is Flutter mobile application development cost estimated?
The Flutter app development cost is dependent on a variety of factors like –
App Complexity
App Category
App Design
App Maintenance efforts
Location of the agency
Why choose Flutter platform over others?
Flutter is the most popular these days makes it a choice for many. The most accepted reasons are – A. Google's Backing and B. The widgets that make your application Native-like.
Is Flutter a good idea for every app?
Flutter can make a tailor-made app of your choice. One should opt for low to medium complexity apps when choosing Flutter. This will lead the developmental efforts to be less and the time to market to be high.
How to calculate the Flutter app development cost?
To calculate the Flutter app development cost, you have to multiply developers' time by their hourly rate.
Flutter is thus cost-effective platform that reduces the cost of mobile app development by nearly half and also cuts down its maintenance expenses. Based on the requirements, a company can opt for flutter development and increase its sales & growth.