Outsourcing Mobile Application Development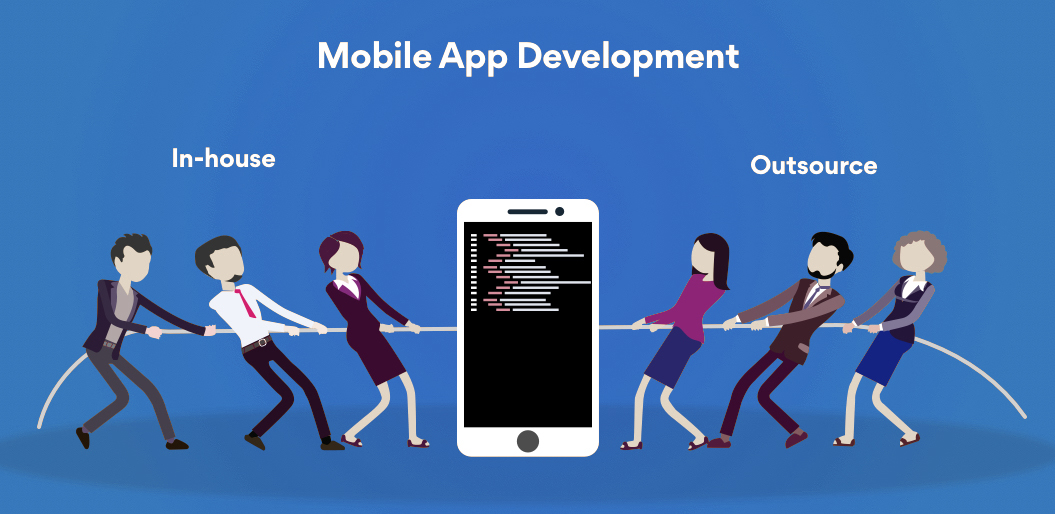 We are going to cover below points in this blog:
Why Outsource Mobile App Development?
In the current scenario, where the competition to be the best in the market is getting tougher. To prove and mark one's identity, the product/a service one provides has to be extraordinary which requires technical know-how, an expert team, budget etc. It might not be possible for every company to have all the expertise needed to outstand the crowd. That's when one should opt to outsource.
The need of outsourcing app development arises when you want to build a mobile application but don't have the necessary technical expertise, lack of knowledge about current trends, lack of time, a stipulated budget, a qualitative & desired professional output.
Points to be kept in mind while choosing the Perfect Agency to Outsource Mobile App Development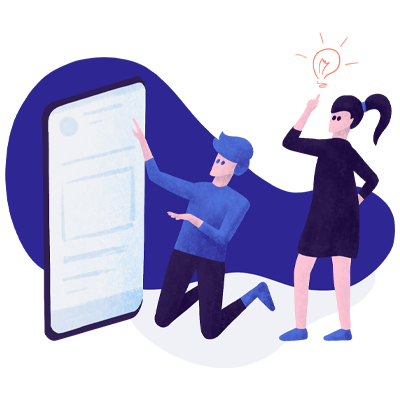 As developing a mobile app takes a fine amount of investment, it is highly advisable to make a wise choice while choosing outsourcing app development agency. To make it easier, we have certain criteria which one can take care of while selecting the agency.
Sorting & Shortlisting as per the Priority Criteria: The prior thing one can do is set the priority criteria as to where to get the information about agencies from, sorting it down to particular geographies, rates, ratings etc. After sorting the companies, you can cross-check with the client's reviews and shortlist 4-5 best companies. By personal meeting & discussion about the app, you may then give the contract to a particular agency.
Quality of Work: Knowing the quality of work, a company/agency provides based on its past offerings and client reviews are essential before final handing over of the project. An agency's portfolio is of great importance here.
Service Options: A proper clarity & understanding of the type of services that will be provided by the agency should be taken into account before initiating the project. The vision and the desired result should be specified and it's important to know whether the company can deliver all those services on time with superlative quality.
Post-Development Services: This is an important point to be known before finalising the work with the agency. Delivering the app is not the only requisite but post-development services are also crucial, and after- development maintenance support is a must.
Pros of Outsourcing Mobile App Development
Pondering over whether outsourcing mobile app development could be beneficial for your firm? Here's supporting answers to clear your dilemma –
Advantage of Expertise – Mobile App Development is a complex process which requires thorough knowledge, expertise and experience to get the desired output. Outsourcing the development to a well- known firm with an experienced team can lessen your worries and get you the desired app with necessary output.
Market Research – While developing an app it is highly essential to do market research to know the trends, choices, demand, and scope etc. Without extensive research, app development will turn useless. Outsourcing the development to an outside firm which will use their expertise & thorough market research will prove to be quite useful to get desired results and save time as well.
Cost-Effective – Outsourcing an app development will comparatively cost less than developing it in house.
Technical Support – In house team may not have all the expertise required and technical support may not be possible to get on time. This can be easily solved when app development is outsourced. Consistent technical support even after the development is provided.
Speedy Development – While outsourcing you don't have to spend much time like selecting candidates, allotting deadlines, keep a check on the work etc. Outsourcing accelerates the development process speed, as all are experts and understand the task easily, which makes it easier to complete the task quickly, speedily and without deteriorating the quality.
Cons of Outsourcing Mobile App Development
Sharing Sensitive Data with a Third Party can be Risky: Handing over work to outsiders means handing out certain important data too. Outsourcing also involves a risk of confidential data getting leaked. A proper pact or agreement regarding it should be made and pre-signed before initiation of the development to avoid any leaks.
A Gap in Expectations & Reality: Outsourcing work to the best companies doesn't always guarantee output as per your perception. Due to lack of clarity, of information, there is a possibility of a gap in expectations & reality of the output. A proper contract with terms and conditions must be prepared to avoid any miscommunication. Moreover, transparency should be maintained to get the desired output.
Freelance or Agency: Which Outsource Mobile App Development Mode is more Preferable?
Freelancer: Hiring a freelancer is the best option when the company's priority is cost & time. Freelancers availability in terms of time and cost is quite flexible and economical when compared to an agency. Whereas when technicality, expertise, latest tools and upgraded skills are concerned, a freelancer may not be able to fulfil all these.
Agency: A 360- degree solution or say everything under one roof can be obtained by hiring an agency. It's like a one-stop solution, wherein one gets efficient, effective, consistent, creative and timely results. Due to the presence of every expertise, it becomes easy to get work done with an agency with appropriate terms & conditions.
Looking at the pros and cons of both, majorly companies prefer hiring an agency for outsourcing app development.
FREQUENTLY ASKED QUESTION
Which Programming Language is used for Mobile App Development?
Users have a wide range of choices when it comes to choosing a programming language. But the most preferable is Java for Android app development while Swift is the language used for iOS app development.
What is Required for Mobile App Development?
A team of Expert developers, experienced project manager, a robust plan and development approach.
How to find Offshore Mobile App Development Companies?
A usual Google search is a common way to find an offshore app development company. Also, a bunch of rating and review websites like Clutch, Mobile App Daily etc, which have a genuine list of software development companies that you can then select from.
How to Outsource Mobile App Development?
Thinking to outsource mobile app development? Make a wise choice by following the below-mentioned steps –
Knowing your product-
Knowing your product line is very important as it forms the basis to decide which type of outsourcing option is feasible for you, whether a freelancer or an agency.
A thorough inspection can help in saving cost, time, and get the desired output.
Knowing the phase of the product
By phase of the product we mean whether it's a new product, changes in the existing product, seasonal or short- term product, etc. On basis of this, one can easily decide the outsourcing plan, the cost to be incurred, whether to hire a freelancer or an agency.
Cost of Outsourcing App Development
The approximate cost of developing a simple app can range anywhere from $3,000 to $8,000 in India. But if your mobile app is more complex in functionality and features, the cost may rise to the $18,000 – $20,000 range.
Outsourcing mobile app development can help your company have the desired edge over competitors in the ever-challenging & advancing market. From cutting down on costs to helping you concentrate on your core activities, outsourcing aids in success, business growth, high return on investments and also lots of profits.