What is Google Workspace?
Google Workspace, formerly known as G Suite, is a suite of cloud-based productivity and collaboration tools developed by Google. It is designed to help individuals, teams, and businesses streamline their work processes, enhance communication, and improve productivity. Google Workspace includes a variety of applications and services that cover email, document creation, file storage, video conferencing, and more.
Google Workspace is available in various subscription plans, tailored to the needs of individuals, small businesses, and large enterprises. It offers features like real-time collaboration, automatic cloud storage, and seamless integration with other Google services, making it a popular choice for businesses looking to improve efficiency and collaboration within their organizations.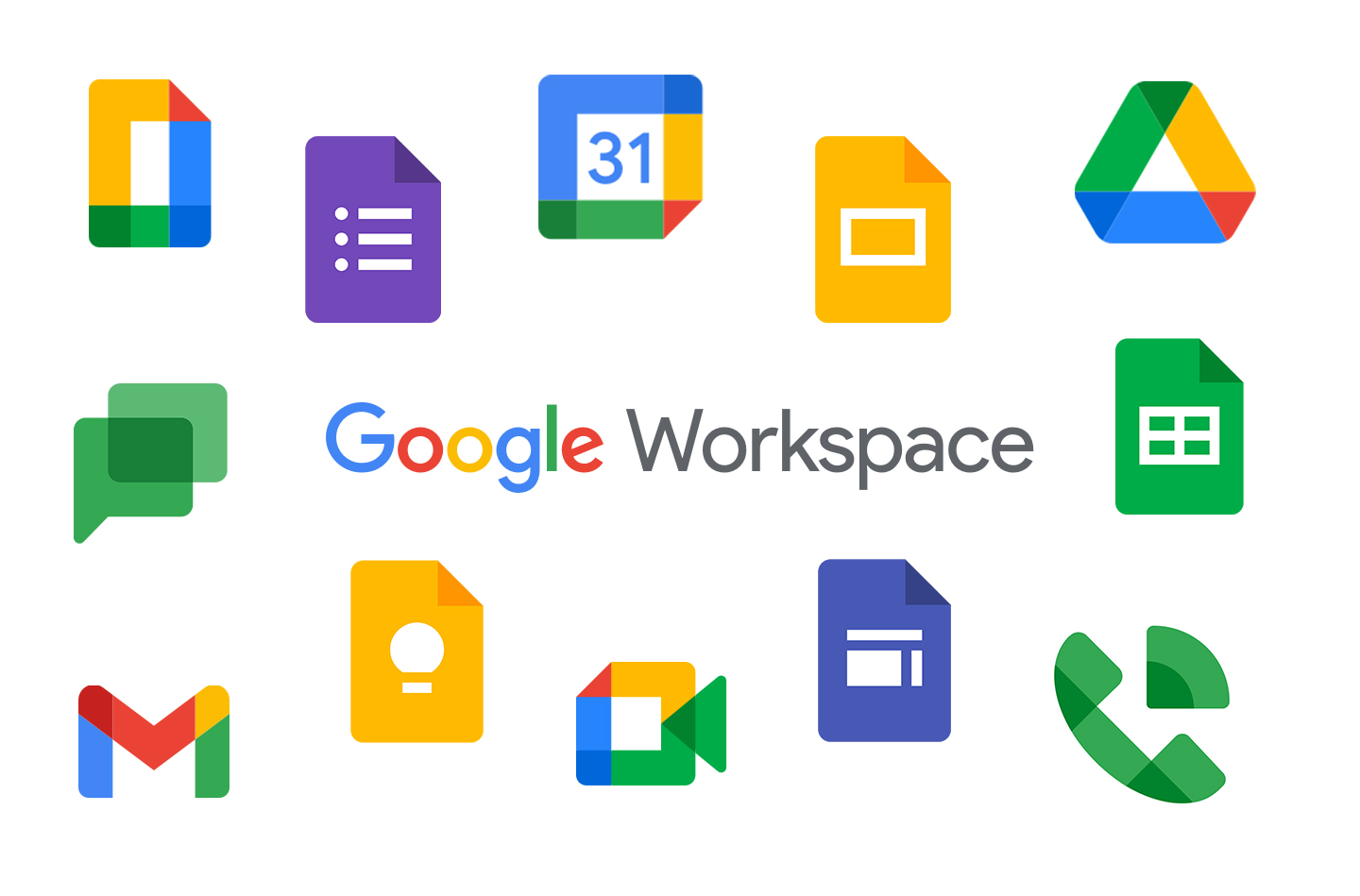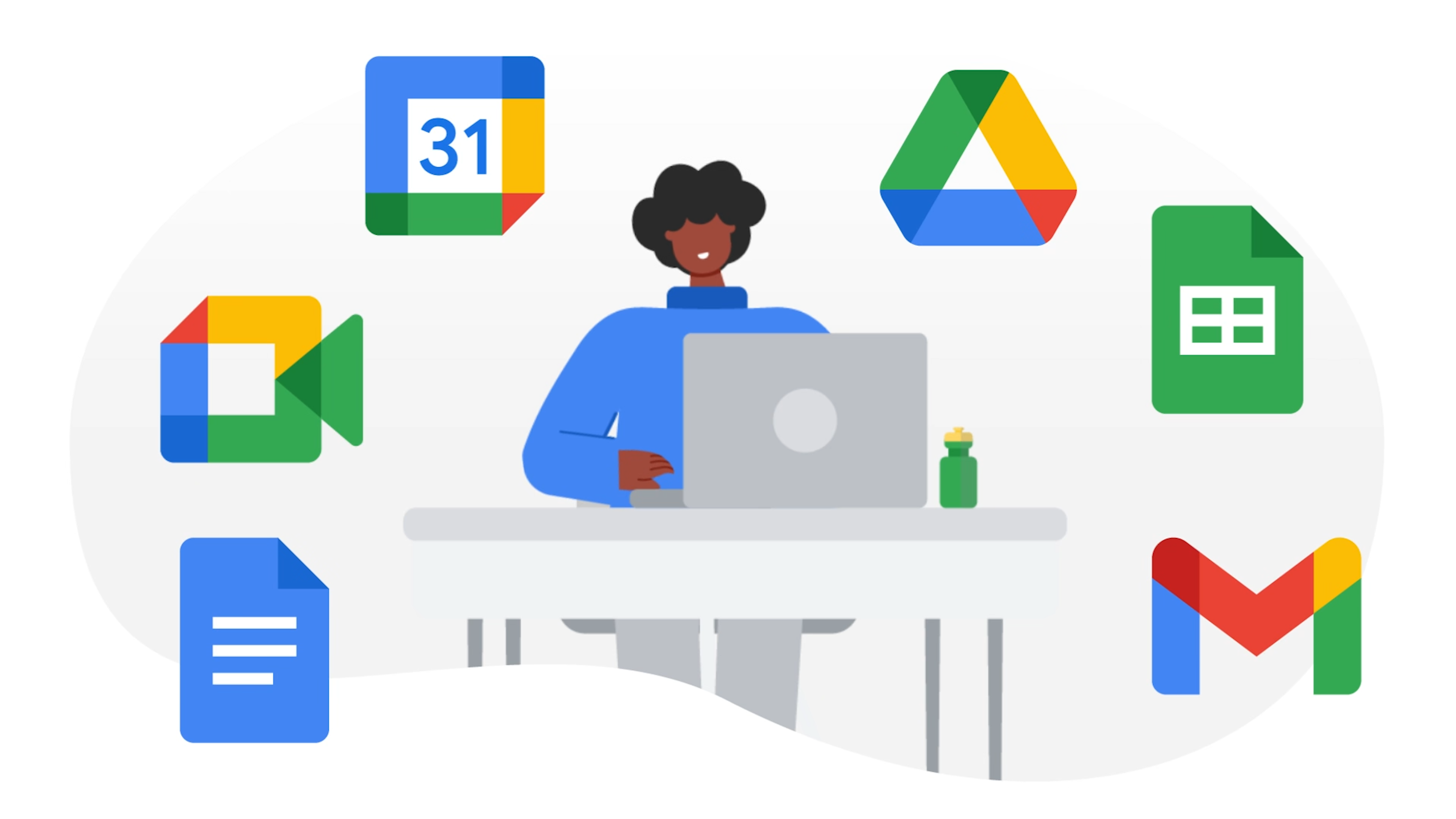 Solutions are offered by Google Workspace
Google Workspace provides a wide array of applications aimed at assisting businesses, whether they are small enterprises or large corporations, in managing their daily operations. Undoubtedly, one of the key strengths of Google Workspace lies in the extensive range of productivity and collaboration tools it makes available.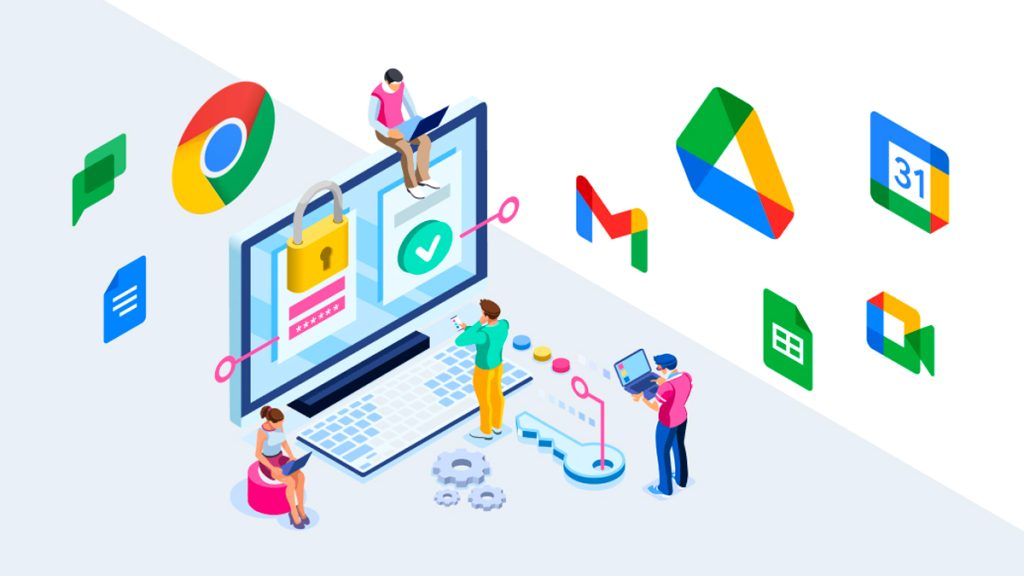 Here is a list of some of the most frequently utilized apps within Workspace:
Gmail: This email application is widely employed for both professional and personal correspondence.
Google Calendar: A versatile calendar app designed for scheduling events, meetings, tasks, reminders, and it seamlessly integrates with Gmail for easy sharing among team members.
Google Drive: A cloud-based storage solution that enables you to store and retrieve files from anywhere.
Google Docs: A word processing application, comparable to Microsoft Word, that facilitates document creation and real-time editing without the need for manual saving.
Google Sheets: This spreadsheet application, similar to Microsoft Excel, aids in the creation, sharing, and management of various spreadsheets.
Google Slides: A presentation application, somewhat akin to Microsoft PowerPoint, that assists users in crafting and delivering professional presentation slides.
Google Meet and Chat: Google Meet is a video conferencing app that allows you to host, schedule, and record virtual meetings with team members and clients. On the other hand, Google Chat is primarily focused on text-based communication. Both of these tools offer robust integrations with other Google applications like Calendar and Gmail.
Google Workspace provide many advantages to businesses
Google Workspace offers a multitude of benefits tailored to businesses across various sizes and industries. With an expansive user base exceeding three billion daily users and numerous companies already utilizing the platform, numerous businesses are currently enjoying these advantages.
Some of the key benefits include:
Diverse Range of Applications: Google Workspace offers a comprehensive suite of applications, and the platform continuously develops and updates them. This ensures that Google Workspace can likely address any specific needs your business may have. You can find a comprehensive list of features and applications on Google's official website.
Accessibility: Google Workspace enables you to access your files and collaborate with team members from virtually anywhere, as long as you have an internet connection. It provides ample cloud-based storage, with basic plans starting at 30 GB per user. All you require is a device with a web browser to get started. Additionally, you can sync applications for offline use, allowing you to edit documents and emails even without an internet connection.
Robust Security: Google Workspace offers enterprise-grade security measures, including two-factor authentication, encryption, and regular security updates. The platform boasts impressive results, with Gmail achieving a 99.9% accuracy rate in blocking phishing and malware emails. Google continually implements security updates and fixes to ensure a high level of protection.
Flexibility: Google Workspace is both flexible and scalable, allowing you to add or remove users as your business evolves. You also have the flexibility to adjust your plans to accommodate changing business needs.
Sustainability: Google takes pride in having "the cleanest cloud in the industry." Their cloud data centers are designed to consume 50% less energy than industry averages, and they maintain net-zero operational carbon emissions. By 2030, Google aims to run entirely carbon-free data centers. This commitment to sustainability benefits the environment and can be a point of pride to share with your employees and customers.
Enhanced Collaboration: Google Workspace includes applications such as Gmail and Google Meet, which facilitate seamless communication with team members and clients. It also supports real-time collaboration, allowing multiple individuals to work on a Google Doc or Sheet simultaneously, with notifications for comments, tags, and edits.
In summary, Google Workspace offers businesses a wide array of advantages, including diverse applications, accessibility from anywhere, robust security, flexibility, sustainability, and enhanced collaboration tools.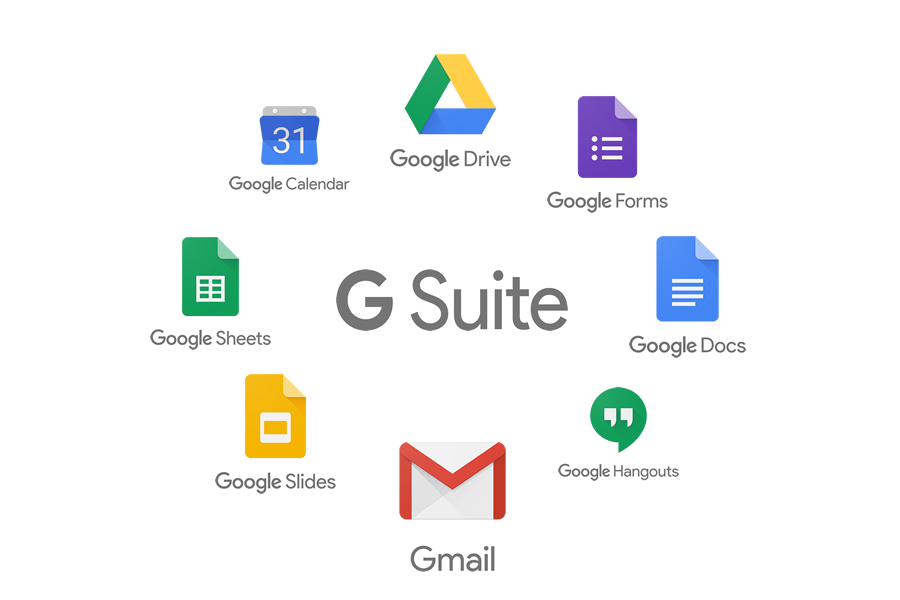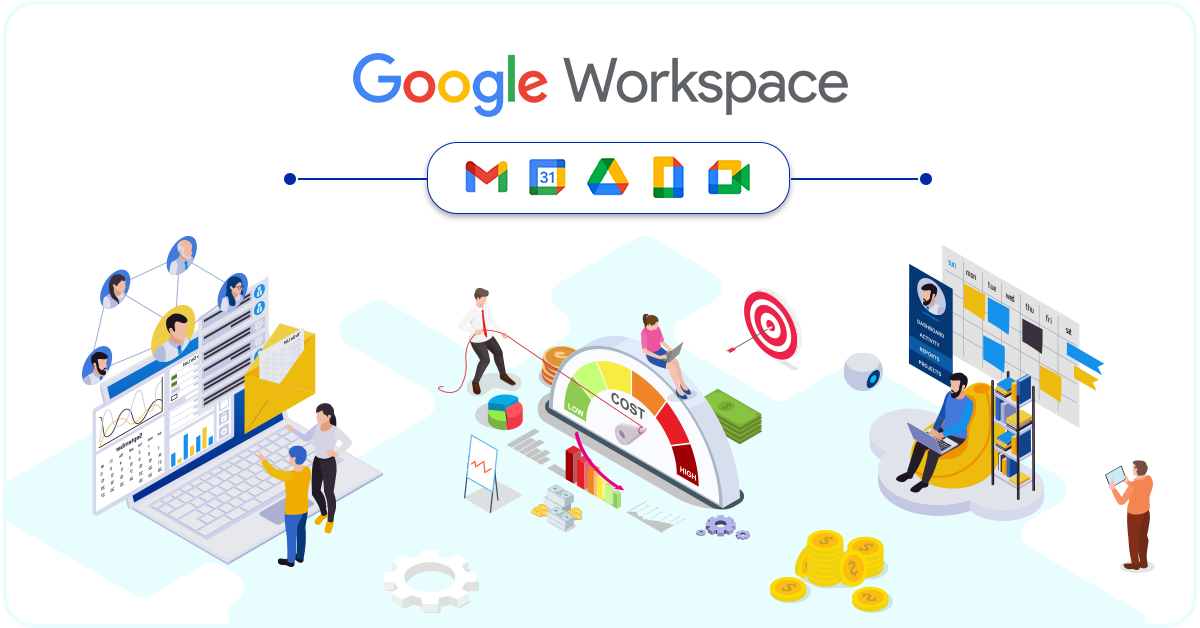 What are the advantages of subscribing to Google Workspace?
You don't necessarily have to be a Google Workspace user to access Google's core apps, including Gmail, Docs, Calendar, Sheets, and others, as they are all available for free without requiring a Google Workspace subscription.
However, the decision to join Workspace offers several benefits. Workspace provides enhanced functionality and a more integrated experience, particularly when collaborating within a team.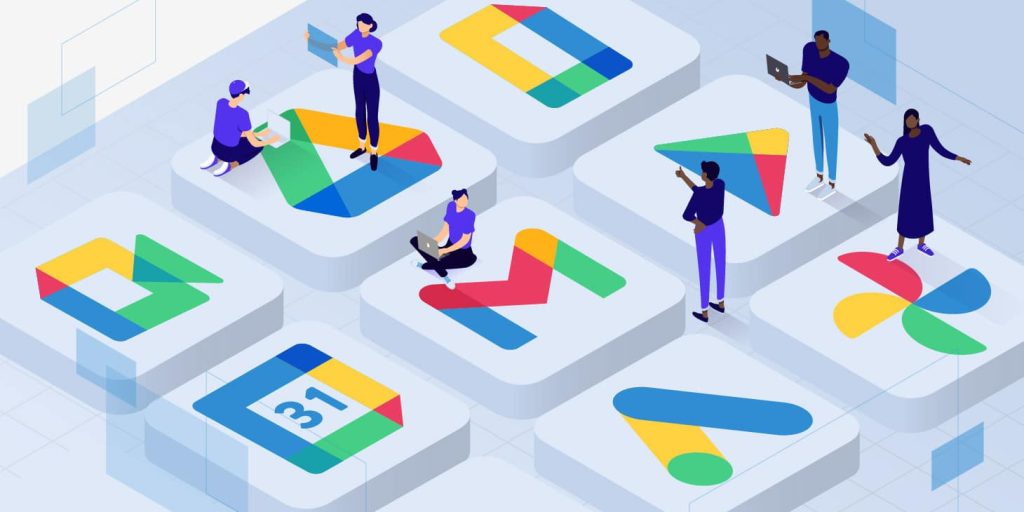 If you require a custom email address (not ending with @gmail.com), additional cloud storage, support for larger video conferences, and a broader range of features to streamline your work, Google offers paid versions of Google Workspace for individuals or teams seeking these advantages.
Frequently Asked Questions
What are the reasons for using Google Workspace?
Google Workspace serves as a valuable tool to enhance productivity and foster collaboration. It integrates a suite of tools that facilitate seamless day-to-day work, ultimately saving you time. With Google Workspace, you can swiftly access documents and files, schedule meetings, send emails, and easily communicate with colleagues.
Is it possible to include additional domain names in Google Workspace?
Depending on your selected subscription plan, you have the flexibility to add multiple domains. During the initial setup, you'll be required to designate a primary domain linked to your account, Google Workspace, and individual Cloud Identity. Subsequently, you can introduce secondary domains or domain aliases, provided you can verify ownership of these domains.
Is it possible to create a business email using Google Workspace?
Creating a professional email address is crucial for bolstering your credibility. With Google Workspace, you have the capability to craft a personalized email address that incorporates your company's domain name, thereby enhancing your brand presence.
Is it possible to use Google Workspace without an internet connection?
In situations where quick access is essential, or when internet connectivity is limited during flights, there's no need for concern. Google Workspace offers seamless offline functionality, allowing you to work from any device even when offline. You can access your emails, create drafts of files and emails without an active connection, and transmit them once you're back online.
Is Google Workspace a secure platform?
Google Workspace is recognized as one of the most secure cloud-based tools currently available. Google is committed to maintaining comprehensive security measures, safeguarding its users, implementing security checklists, and adhering to the latest security standards.
Is Google Workspace suitable for all users?
With its affordable pricing, user-friendly interface, and adaptability, Google Workspace is suitable for a wide range of individuals and organizations. Whether you're an individual starting a small business or a large enterprise spanning multiple time zones, Google Workspace is undoubtedly worth considering. While it can be challenging to keep track of Google's various rebrands and app name changes, one constant remains: Google simplifies the work process.