Structured Network Solution – Organize Cables, Organize IT

Technology has done miracles these days, wireless internet, wireless phones and even wireless chargers. However, even in today's world, the strength of any IT infrastructure is the "Cabling". The structured and organized Cabling gives you a robust and reliable IT infrastructure.
Structured Network Cabling – Basics of Connecting wires
Let's start with a simple example of our house to understand the concept of "Structured Cabling". We all have electricity in our house, how do we distribute it? The main source of electricity is provided by the service provider like DGVCL/GEB or Torrent Power if you are in Surat or Gujarat and maybe Reliance Power or MSEB in case of Mumbai or Maharashtra. They provide us with the electricity till the main meter or the main switch of the house. Then, our interior designer's electrician distributes the electricity to the entire house by wires. Now, does the electrician provides one dedicated wire to each of your appliances directly from the Main switch? NO! they structure it in a way that only one cable is gone in each room or area and connected to a switchboard, and switchboard will then provide electricity to all the appliances and electric equipment of that room, Right? This is called Structured Network Cabling.
Now you know 70% of Structured Network. For the rest of 30%, you need Structured Network experts like Premware Services India LLP (Formally known as 'PC Helpline').
Just like explained in above example the Structured Cabling is required for all the services like electricity, telephone connection, internet, internal network, Local Area Network (LAN), a connection between other hardware like Printer, Scanner and Network Attached Server (NAS).
The businesses, nowadays, are mostly dependent on the IT and most of the operations, sales and services of businesses depend on IT. IT is the backbone of the business and similarly, the proper wiring and Structured Cabling is the backbone of IT. Cables do not just connect hardware to another one but they connect the departments, key function areas and manages the flow of information & communication within and outside the company. Hence, the selection of right cables and the selection of the right Networking Service Provider are few of the most crucial decisions to take.
Why Structured Network Solution is required?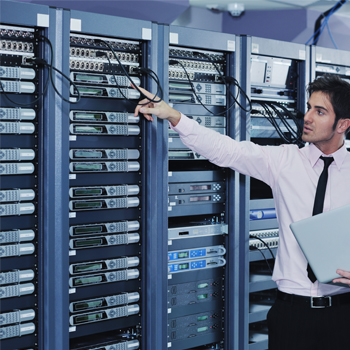 Why do I need an expert service provider for cabling? When an electrician can do it for much lower prices?
It's a myth that cabling is easy and can be done by an electrician, yes! Eventually, electricians only do cabling for you, but the structure designing and execution of that structure as per the design needs the expert advice.
There are various factors affect the design and circuit of cables, and the design changes with each factor and that is why it is called Solution!
Few important factors which affect the Network Structure
Exterior and Interior design of the building of your office
Requirement of Client
Prospects and the possibility of expansion of your company.
The systems and equipment already installed and how integrated the system your company need.
Warranties & Guarantees of the equipment you have purchased in network
Selection of best suitable Cables – It is observed in 70% cases the network failure is caused because of inferior quality of cables and wrong selection of cables; the Expert Networking Solution provider helps you to identify the right cables for your business.
The above factors change the design and architecture of the Network Structure in your office or home.
Types of Cables and their Uses
Ribbon Electric Cables
Ribbon Cables are named so because of its look of thin flat wire looking like colourful ribbons. These types of Cables can transmit multiple data at a time. They are generally used in connecting internal parts of CPU like a connection with motherboard as well as for the internal connection of networking devices.
Shielded Cables
Generally, the high voltage of electricity or current passes through the Copper Wire, however, if they are kept open or unshielded, it can cause some accident or short circuit, hence these copper wire or any other metal wire are generally encased or shielded in a standard conductive layer. They are protected with one or more layers to safeguard the wire from external hit & cut.
Twisted Pair Cables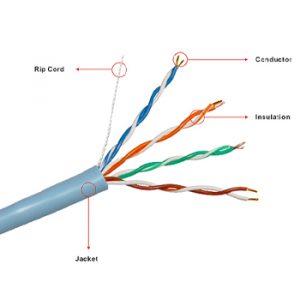 Twisted Pair Cables have two or more insulated copper wires. They are coloured wires and are twisted with each other. These are the main cables of networking and connecting the hardware, telephones and LAN. There are various types of Twisted Cables used depending on the load it is going to carry. Widely used and common wires of these types are Cat 5 & Cat 6 cable wires. Cat wires start from Cat 1 and go up to Cat 7. Cat 1 is used in telephonic lines and Cat 2 up to Cat 7 are known as Ethernet cables or Lan Cables. Internet Cable has a different capacity of speed. Cat 5 is most commonly used as on today as they can carry up to 100 MBPS of internet speed and Cat 6 carries up to 10 GBPS. The other connectors like RJ45 Wire are also type of Twisted Pair Cables, RJ means "Registered Jack" and it contains 8 separate wires.
Coaxial Cables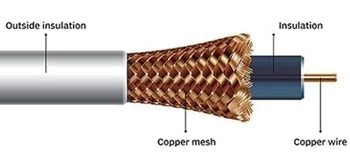 Coaxial Cables consist of solid copper or steel conductor plated with copper, enclosed in the metallic braid and metallic tape. This is entirely covered with an insulated protective outer jacket. These types of cables are used for computer networking and audio-video networking.
Fibre Optics Cable
Fibre Optics Cables are the most modern types of cables and it transports optical data from source to receiving data. They are most commonly used in the world of cables and are used in various applications; Patch Cords also consist of Optical Fibre Cable. They are mostly used in high-end equipment where accuracy is required most, like Medical Equipment, Défense, Broadcasting, Lighting and decorations, Communication.
Benefits of Structured Network
Most reliable networking option.
Long-lasting infrastructure – the studies have proved that the cabled structures last for more than 16 years.
Cost-effective – The total cost of cables occupies only 5% of total networking expenses.
Future-Oriented – the structured Network gives you freedom to add more appliances and equipment without any modification. You can design the network in such a way that satisfies your future requirements as well.
Conclusion:
The businesses have relied on IT and IT is dependent on Network Structure, hence the selection of Cables and Selection of Network Solution Provider will decide the success of your business.
FAQsFrequently Asked Questions and Answers on Structured Networking Services
What does structured cabling mean?
Structured cabling is the design and installation of a cabling infrastructure which contains a number of standardized smaller elements (subsystems). With a correctly installed system, it will support current and future hardware uses.
What are the 6 components of structured cabling?
Below are the 6 components of structured cabling:
Horizontal Cabling
Backbone Cabling
Work Area
Telecommunications Closet
Equipment Room
Entrance Facility
What is structured networking?
Structured networking provide a hardware solution that replaces multiple wiring systems with a single, unified infrastructure, with the ability to carry data in any format, from voice right through to video.
Why do we need structured cabling?
Structured Cabling provide following benefits:
Reduces power and maintenance costs
Eliminates the time and money spent on issues
Provides an enhanced level of flexibility
Improve performance and drive business growth