Best Android Camera App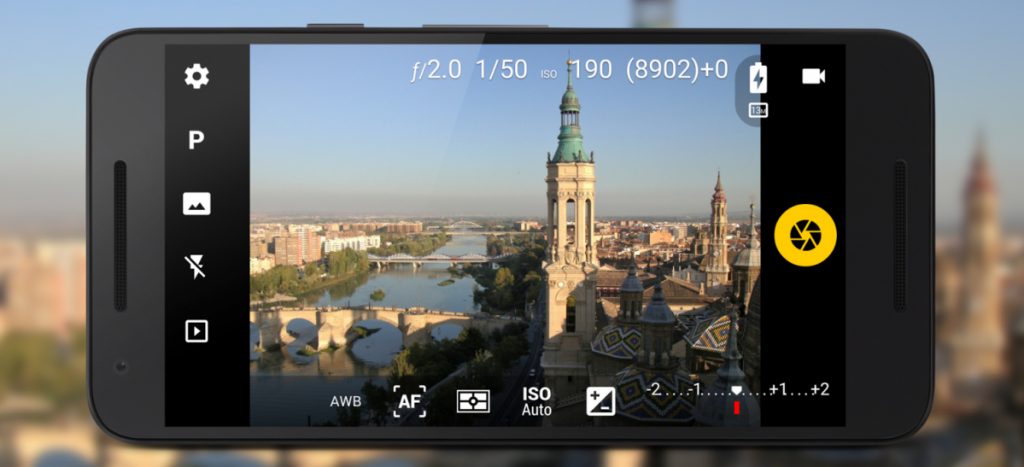 We are going to cover below points in this blog:
Which is the best camera application for android?
Nowadays, the cameras on your android smartphone are getting better than earlier time. The inbuilt camera app on your android smartphone is probably good, but there is always a possibility for improvement. Android users have the flexibility to choose top camera apps, with features such as multiple shot modes, steady shot helpers, composition overlays, editing tools and post-processing special effects. Smartphone makers are paying more attention to make cameras more reliable, work better in night or low light, and add more features that their competitors are providing. Many of the smartphone buyers will base their buying decisions on the quality of the cameras. So, the point is that cameras whether it is primary cameras or secondary cameras, are important on smartphones these days.
Now, the question is:
Which is the best camera application for android?
Choosing only one app as the best camera app for android among all camera apps is very difficult. Because the choice of users can vary on the basis of camera apps rating or no of downloads or no of reviews.
So, we prepared a list of the top android camera apps with all of its parameters.
Here is our list of some of the best Android camera apps. You can use these apps by clicking share-worthy photos from below top Android camera apps.
B612 -Free Selfie Camera, Photo Editor & Video App
Details about this app:
Total Installs: 500,000,000+
Rating: 4.3
No of Reviews: 67,62,131
Google Play Store Link: https://play.google.com/store/apps/details?id=com.linecorp.b612.android
B612 is BEST "One-stop solution app" for all your camera needs.
You will find everything you are looking for here in B612 – Beauty Feature, Makeup, Stickers, Short-videos, Editing, Video templates, Music videos & more. New stickers, filters and effects are added everyday for our Indian user in India. Have fun and make amazing memories with B612.
Easily create high quality music videos
– Pair your videos with exciting tunes
– Diverse effects and playback speeds for more dynamic music videos
​
– Find 1000+ video templates and collage layouts to make amazing content extraordinary
– Most trending and new video editing templates for you to edit your videos easily and fast
– Find new video as well as photo edit templates on daily basis
– Easy way to find our whats trending as well as to to set new trends
Over 1,500 diverse stickers
– Facial recognition stickers that can distort your face or turn you into a cute animal
– Shiny effects and stylish analog filters to brighten your day
– Various drawing effects that you can draw as you take a video
– Celebrate every festival with new trending sticker and effects
– Find new most trending and viral
Real-time beauty and makeup effects to get the perfect shot at once
– Perfect skin with a single tap
– Find your ideal face shape with an easy-to-use slider
– Get rid of pimples Adjust the features like smoothening, dark circles, pores for perfect selfie
– Change makeup styles for every picture
Immaculate filters to suit your taste
– High quality filters perfect for selfies, food, landscapes, or any occasion
– Quick access to your favorite and most used filters
– Make and save your custom filter
– Use editing tools from gallery to make your existing photos more special
– Try amazing filters, stickers for pictures & new trendy photo effects.
– Use auto-cut and change your background
– Beauty and makeup editor: features like smooth skin, makeup are now easy to add
– Use new tools to make your pictures stunning: hair color changer, auto-cut, slow motion & more.
– Adjust the ration of your pictures and videos in all sizes for Instagram (1:1), Youtube (16:9) & other media
– Easy and fast one touch adjustments tools
– Now make amazing stories using new trending effects everyday
– Get perfect beauty and makeup for all your stories and videos
– Easy one touch share is available for your convenience
– Add your favorite music and make fun short videos
Take fun boomerang videos that play on a loop
Meet cute characters that come to life using AR stickers (Only available on certain devices using iOS 11 or above.)
Create collages where you can see all your best moments in one place.
Cymera Camera – Photo Editor, Filter & Collage

Details about this app:
Total Installs: 100,000,000+
Rating: 4.6
No of Reviews: 24,79,006
Google Play Store Link: https://play.google.com/store/apps/details?id=com.cyworld.camera
👑Cymera reached 300 million downloads for Android and iOS users in 2018.
Get this powerful photo editor app with amazing photo effects, photo filters, stickers, crop, instafit, blur effect, mirror effect, tattoo & muscles effects and makeups!
🌈Christmas Selfie Effect.
🌈New Year Selfie Effect.
😘New Snappy sticker and the new beauty lomo filters.
💎Face filters to remove acnes and blemishes.
🌸New AR Selfie effects for Summer vacation.
🎉New Air Shape Item to uplift your pic!
❤Popular & New❤
+Collage Maker
+Live Filter
+Layout Items
+Smaller and V-shaped face
+Makeup Style
+Body and Face Editor
+Vintage, Natural, Lomo, Film, Sketch and Selfie Filters
+AR Face Sticker
+Healthy Skin Feature
+Text and MEMES
+Various hairstyles and color
+InstaFit and more!
+Import directly from Google Photos
【Main Functions】
😍Beauty Camera
– Professional beauty tools for your skin makeup, slim or face reshape, remove wrinkles, erase face pimples and dark circles.
– Hundreds of amazing beauty selfie filters and makeup effects.
+ Meet the smart selfie camera to look exceptional without hassle!
🍭Amazing Filters
– Perfect instant selfies with 130 different filters.
– Edit with free filter packages for selfie, nation flags, air shape, vintage-feel, pastel colors, film-effect, black & white and more!
– Face filters for perfect selfies!
– Lens flare effects or light laked effects.
– Create your own collection of favorite filters.
+ All filters are free!
🎈Camera Lenses and Silent Mode
– 7 different and fascinating camera lenses. 📷
(Divided lenses/FishEye/Lomo and more)
– Anti-shake, timer, touch shooting, out-focusing options.
– Silent mode
– Bluetooth connection is available for selfie sticks with remote.
✨Collage and No Crop Features
– Different types of grid to combine photos (up to 9 photos) into one.
– Blurred background with a simple touch.
💕Retouch or Adjust Photos Instantly
– Automatic face recognition including enlarge eyes, smile and slim feature.
– Edit with Liquify, skin corrections (brightening, whitening, concealers)
– 200 kinds of natural hair and face makeup items
💋Shape your dream body with new features!
– New body shaping feature
– Stunning feature to Slim your waist
– The best photo editor to lift your hip
– No more bow legs. Get a sexy, shaped legs in few seconds!
😍Super Easy and Fast Editing Tools
– Brightness/contrast/mosaic/crop/rotate.
– Extraordinary effects including filters/lights/borders/vignette.
– High quality resolution for clean and clear photos.
– Advanced red eye removal function.
– Add a stunning art effects with color splash function.
😍Upgrade Photos with Unique Items
– Trendy AR stickers including face animal mask, air shape item, love stickers, beauty filters, light effects, frames
– Brush items for hand writings and drawings
– Variety of fonts in text feature
– Face pop and meme
💎Sharing Photos and Smart Gallery
– Organize photos by date, location, selfies, etc.
– Now you can set your edited photos as wallpaper.
– Edit photos taken by other camera apps.
– Send or share your photos on your social media channel or other instant chat.
YouCam Perfect – Best Selfie Camera & Photo Editor
Details about this app:
Total Installs: 100,000,000+
Rating: 4.5
No of Reviews: 19,34,761
Google Play Store Link: https://play.google.com/store/apps/details?id=com.cyberlink.youperfect
YouCam Perfect is fully developed in Taiwan by Perfect Corp.
YouCam Perfect is the best beauty camera & selfie photo editing app with over 300 MILLION downloads and counting! Edit pictures & selfies to share with family and friends with YouCam Perfect your full mobile photo editor, selfie beauty camera & social app. Create amazing edits for social media, WhatsApp, Facebook, Tik Tok & more with our easy to use photo editor camera app.
Edit selfies & photos with hundreds of campaign and new creative templates, effects & filters. YouCam Perfect lets you combine your snaps into instant photo collages and creative frames. Get perfect selfies in just one tap with beautify, also remove blemishes & smooth wrinkles! Share your edits in an easy way with friends and family either online using WhatsApp & other social media. Stay connected wherever you go, stay updated with friends & family with easy edits, selfies & pictures!
====== YouCam Perfect Core Features =======
❤Real-Time Selfies &Skin Beautifying Effects in Beauty Camera
❤Edit Photos with Full Editing Toolkit
❤Cutout & Object Remover Makes It All About You!
❤Achieve a Flawless & Luminous Face in Every Picture
❤Stylize & Share Pics with Friends!
Edit Photos with Full Editing Toolkit
★Try effects and one-touch filters, photo crop and rotate, mosaic pixelate to blur the background, vignette, and HDR effect.
★Blur photos using background defocus, Gaussian blur, and other blur effect tools
Cutout & Object Remover Makes It All About You!
【Focus On You With Smart Object Removal】
★Like a green screen for your photos, cut out the subject of a photo, then give it a fun new background for a special effect.
★The unique intelligent object removal tool that you can't find in other beauty apps
★Erase unwanted background objects or people, so that your photo is all about you!
Real-Time Skin Beautifying Effects in Beauty Camera & Video Selfies
【Real-Time Beautifying Effects & Filters】
★Bring selfies to life with short videos
★Videos and video selfies with cool filters for better Vine videos.
Stylize & Share Pics with Friends!
【Collages, Grids & Frames】
★Insert your selfie photo into a fun scene, grid, collage or template!
★ "Smart Collage" detects faces in your photos for perfect placement in collages and backgrounds.
★Magic brush adds stickers to photos with a burst of shapes and colors wherever you tap!
★Share to Facebook, Instagram and your favorite social networks
Simple Steps for a Flawless & Luminous Face in Every Picture
【Face & Body Editing】
★Face reshaper gives you a great face shape without plastic surgery.
★Skin smoothener makes dry skin, wrinkles, acne and fine lines all disappear.
★Add contours to your face to bring out your true beauty.
★Add blush & remove shine for a clear face, even without makeup. Also, add freckles, and perfect brows like with microblading.
★Eye Bag Remover diminishes dark under eye circles and reduces puffiness.
★Multi-face detection lets you touch-up every face in your group shots.
Sweet Snap – Beauty Selfie Camera & Face Filter
Details about this app:
Total Installs: 100,000,000+
Rating: 4.5
No of Reviews: 6,67,884
Google Play Store Link: https://play.google.com/store/apps/details?id=com.ufotosoft.justshot
Sweet Snap is used by over 100 million people around the world. The best FREE photo editor and beauty camera app on Google Play. You can snap perfect selfie & video with its unique photo filters, cute stickers, pretty makeup, and beauty effects. Create your own GIF emoji packages easily and take fun boomerang videos that play on a loop with Sweet Snap. In addition, you can add music to videos, create high-quality music videos.
———-FEATURES———-
Filters for pictures – Make every selfie photo amazing
* Food? Landscapes? Selfie? High quality filters perfect for any occasion.
* Glitter, Neon, Sweet, Nature…Hundred of filters for pictures to choose from.
* With a massive amount of editing options, easy to make your pics stand out.
Cute stickers – Brighten your every day
* Lovely? Funny? Fashion? There are over 2800 unique live face stickers far more than B612.
* Just simply click the stickers to easily switch between various stickers.
* Face recognition stickers that can easily suit selfies and make your photos funny.
Makeup Camera – Get pretty makeup at once
* Multiple choices of the popular lipstick, blusher, contour, and eyebrows.
* Here you can find the youcam makeup styles that best suit selfie.
* Various popular makeup selfie effects make your selfies mesmerizing.
Real-time beauty effects – Snap perfect selfies
* Acne? blemishes? pimples? Sweet Snap make skin problems disappear with just a tap.
* Retouch skin tone using our exclusive skin smoothing makeover tool.
* Beauty plus camera adds a radiant complexion for perfect face and selfie pictures.
GIF & boomerang – Funny short video maker
* Shoot an 8-second short video and turn it to a GIF emoji.
* Add music to video, customize high-quality music videos.
* An essential function to colorize daily chat.
* Trending stickers and magic filters make your short video unique and awesome.
Smart Cutout – Simply and Intelligent
* Cutout image automatically with the AI Auto Selection tool and paste it on another image or background.
* Manual eraser and cutout for finger rub background cut and removal.
* Combine your cutout photos seamlessly to create unique and funny images.
Easily Share – Snap memorable moments
* Snap perfect selfies & videos with Sweet Camera and save them in high resolution.
* Share to all social apps Facebook, Instagram, Whatsapp, Twitter, Messenger, YouTube, Tik Tok, Snapchat, etc.
Sweet Snap is a powerful beauty plus camera and boomerang video maker, best photo editor with all photo editing features, free GIF maker app. It's great for creating your own GIF emoji packages easily and taking fun boomerang videos that play on a loop. The draw tool can also help draw various drawing effects for your videos and photos.
With Sweet Snap, you can easily record videos, add music to video, add text on video, edit videos with the draw tool. The fast motion feature is super fun. Sweet Snap is also a free photo editor and beauty plus camera. You can snap perfect selfies & videos with ease and export it in high resolution, and share your photos & videos to Facebook, Instagram, Whatsapp, Twitter, Messenger, YouTube, Snapchat by one click, or edit video with music and pic for Tik Tok.
Candy Camera – selfie, beauty camera, photo editor
Details about this app:
Total Installs: 100,000,000+
Rating: 4.4
No of Reviews: 35,00,230
Google Play Store Link: https://play.google.com/store/apps/details?id=com.joeware.android.gpulumera
Let's take a selfie!
With Candy Camera's beautifying filters and silent mode,
You can take beautiful selfies anywhere and anytime!
Don't miss out on Candy Camera's amazing filters –
1,000,000 people taking selfies with Candy Camera every day!
★ Filters for Selfies
A diverse range of filters, designed specifically for selfies –
Every Candy Camera filter will make your skin look amazing!
Swipe left and right to change between filters,
And find the perfect beautifying filter for a selfie!
Candy Camera's filters are shown real-time while you take a selfie,
So you always look and feel beautiful with Candy Camera's filters!
★ Beauty Functions
In addition to the filter camera, there are additional editing tools for the perfect selfie –
Slimming, whitening, concealer, lipstick, blush, eyeliner, mascara!
Edit or use make-up stickers to look beautiful in all your selfies.
Candy Camera is the ultimate beauty tool for selfies!
★ Stickers
Stickers for every season, occasion, and trend!
Decorate your selfie with Candy Camera's huge sticker collection –
New stickers are being added to Candy Camera with every update!
You can find cute stickers for your selfies and artistic ones for your photography.
Each sticker can be easily resized and moved using multi-touch!
★ Silent Camera
Take silent selfies, snapshots, or photography anywhere you go!
Candy Camera's silent mode can be used for any occasion –
Never be embarrassed to take a selfie, the camera is silent!
★ Collage
Take multiple photos for a collage!
Choose from many different grids and styles –
Taking selfies with Candy Camera's collage mode,
You'll feel like you're in a photo booth with filters.
Have fun taking selfies with your friends!
VSCO: Photo & Video Editor

Details about this app:
Total Installs: 100,000,000+
Rating: 4.3
No of Reviews: 11,31,810
Google Play Store Link: https://play.google.com/store/apps/details?id=com.vsco.cam
VSCO is a place where expression matters most. We offer creative photo and video editing tools, inspiration, and a place for you to be you.
Share your photos and videos with #VSCO for a chance to be curated by VSCO. We can't wait to see what you create.
FREE PHOTO EDITOR
Take your photography to the next level with 10 free VSCO presets. Easily import and edit your RAW photos. Use editing tools like Contrast and Saturation to make your photos pop or use Grain and Fade to add texture and mimic analog film effects. Adjust or play around with your photo perspectives with Crop and Skew. Save and recreate your favorite edits with Recipes.
ADVANCED PHOTO EDITING TOOLS
Join VSCO Membership to access VSCO's complete preset library with over 200+ presets. Recreate vintage film looks by Kodak, Fuji, Agfa, and others with Film X. Use advanced photo editing tools like HSL and Split Tone. Frame your images with a touch of color using Borders.
VIDEO EDITOR
Transform your videos on mobile with the same premium VSCO presets and advanced editing tools from our photo editor. Adjust white balance and experiment with color control with HSL.
VSCO MONTAGE
Tell a video story and make a moving collage by layering videos, images, and shapes. Celebrate moments, illustrate a mood, or experiment with photos and videos you already have in your Studio. Adjust the opacity of any media layered in to create an eclectic range of customized gel colors and double exposures.
CONNECT WITH A CREATIVE COMMUNITY
Explore inspiring photos, videos, and editorial in Discover. Find people you know and connect with friends already on VSCO. Try something new with weekly photo Challenges exclusive to your VSCO membership.
Adobe Lightroom – Photo Editor & Pro Camera
Details about this app:
Total Installs: 100,000,000+
Rating: 4.3
No of Reviews: 7,87,761
Google Play Store Link: https://play.google.com/store/apps/details?id=com.adobe.lrmobile
Adobe Photoshop Lightroom is a free, powerful photo editor and camera app. It empowers you in your photography, helping you to capture and edit stunning images.
With easy-to-use image editing tools like sliders, or filters for pictures, photo editing is made simple. Retouch full-resolution photos, apply photo filters, or start photo editing wherever you are.
EDIT YOUR PHOTOS ANYWHERE
Transform raw photos with one of the world's most intuitive photo editing apps. Simply tap and drag sliders to improve light and colour, apply photo filters for pictures, and more. Breathe life into your photo editing with these leading photography tools.
Retouch light and colours on photos to make them pop. Easy-to-use sliders give you control over your photos' properties, even on a phone screen.
Crop and Rotate tools let you find the size and aspect ratio to best show off your camera work.
Create super clean shots with straight lines by adjusting the perspective of your image with powerful upright, guided upright, and Geometry slider tools. Experiment with Versions of photos to compare different edits without losing the original and pick your favorite look.
Access all your presets anywhere. Image edits on one device are automatically applied everywhere else.
EDIT DOWN TO THE DETAIL
The advanced picture editor helps you to finesse the details.
Take control of your image with selective adjustments. Remove almost anything from your photo with a touch of the Healing Brush. Local Hue Adjustments as part of selective edits mean you can even alter hue and saturation with precision to bring your photos to life.
Get inspired with interactive tutorials and learn how to use the photo editor to its full potential by completing step-by-step lessons curated by fellow photographers.
LIGHTROOM PRESETS SIMPLIFY PHOTO EDITING:
Achieve professional photo editing faster by using presets – filters for pictures with unlimited customization options. Presets make every step of photo editing visible so that you can learn to do it yourself.
Be an even more creative picture editor. Combine presets to recreate your favorite photo effects perfectly every time with just one click.
PRO-LEVEL CAMERA
Unique phone camera controls unlock your photography potential. Choose from exposure, timer, instant presets, raw and more. Enjoy more control over your photography on the go with capture modes such as Professional and HDR.
SMART ORGANIZATION FOR YOUR PHOTOS
Adobe Sensei harnesses the power of AI to tag and organise your photos based on the objects or people that are in them. A quick search for "mountains" or "Maria" will display all the relevant photos.
Use handy organizational tools like ratings and flags, so you can mark and group the photos you like best.
ADVANCED PHOTO SHARING
Group Albums allow you to invite others and collect everyone's photos in one place. Share your creative process with other users in the Discover section of the app so they can see how you got from start to finish. Lightroom galleries showcase your photos online. Photo edits sync seamlessly, so any changes you make are always up-to-date.
WORRY-FREE ADOBE CREATIVE CLOUD STORAGE:
The Lightroom image editor is the best cloud-based service for photography lovers.
Retouch your full-resolution shots and have both originals and edits backed up to the cloud, ready to access anywhere.
Searchable keywords are automatically applied to help you sort photos without tagging them.