UI UX Design Services

What is UI Design?
When talking about the term "UI" in UI design, it stands for "user interface". The user interface is generally the graphical layout of an application. It usually consists of the button's users click on, the text they read, the images, sliders, text entry fields, in short, all the items the user interacts with. This includes screen layout, transitions, interface animations and every single micro-interaction.
UI design is mostly about programming the look, the appearance of things, to enhance the usability and to improve the user experience.
What is UX Design?
The term "UX" stands for "user experience" It covers all aspects of the end-users interaction with the company, its services, and its products.
User experience (UX) design is the process to design & create products that provide meaningful and satisfying experiences to users. This includes the design of the entire process of acquiring and integrating the product, taking the aspects of branding, design, usage and function into consideration.
Difference between UI and UX Design
When comparing both, UX is usually focused on the user's journey to solve a problem, UI is focused on how a product will look and function.
Taking into account the role of the concerned designers – A UX designer is concerned with the conceptual aspects of the design process, while the UI designer focuses on the more tangible elements.
The difference in colors & prototype – UI designers tend to design prototypes in full color. UX designers generally use only three colors in prototype design: black, white and grey.
Comparison of tools used for both – For UI designers, designing images is of utmost importance. Therefore, tools like Flinto and Principle, which are bounded to Sketch, are more preferred. InVision is also a good & reliable option for designers. While UX designers will opt for a wireframe as it saves time and makes designing more efficient. They also switch to certain qualified tools like Mockplus which is easy to operate, Balsamiq with sketch style, and Axure with superior functions.

Benefits of UI and UX Design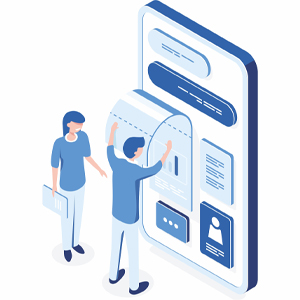 Customer Retention:
Building a strong user experience for a brand gives one a boost in the competitive scenario in attracting and retaining customers. The more attractive, pleasing and intuitive a solution is presented, the easier it is for the brand to build trust with people, which in turn leads to increased chances of attracting users and converting them into customers who will want to continue using it and encourage others to do the same.
Revenue Generation:
One can adopt different useful methods to identify and optimize all potential opportunities to convert users into buyers. One of the ways could be Performing A/B testing to test what users respond best to and direct the efforts in the same channel to refine the experience continues to generate best results, better plan interactions, and improve calls to action that help convert and leads to revenue growth.
Saves Time & Costs
While integrating UI/UX design in the development process, one gets the opportunity to assess most of the usability issues encountered during and after the development of the solution. Having UI/UX designers can help one anticipate the users' needs before initiating the production, and ensure that the design is both flexible and scalable so that it can be in accordance with customers choices in future as well. A well -planned UI UX approach for your design will help you save time & costs.
Reduction in troubleshooting and associated costs
An estimated cost of approximately 50% of a company's engineering budget is usually spent on resolving errors which can easily be avoided if well planned. Ensuring that the UI UX design of your platform is done effectively and efficiently from the beginning will help avoid any errors in the future.
Top UI and UX Design Company

Why Premware for UI UX Design Services?
At Premware Services, we design & create products for customer-specified platforms, cross-platform apps, and offer excellent user experience. From working on a unique idea to the wireframes, Cross-Platform App UI/UX design services, interaction and UX design, producing model designs, creating custom images and converting the designs to code, we ace in managing the entire design & development process for your brand.
We provide robust UX research services which include usability testing, information architecture, research interviews, visual research, personas, analytics reviews and more. Our design team instils the use of latest tools and technologies such as Balsamiq, Adobe Photoshop, Adobe Illustrator, HTML5, CSS3, iOS Interface Builder, inVision, MockFlow, Sketch.
Our users need are our topmost priority which helps us in focusing on designing unique, usable, delightful, efficient, and fun experiences. From the stage of user onboarding to feedback and review, our products consist of an integrated set of experiences designed to give our customers the best with utmost satisfaction.
Quick Links for our Designing Solutions in Surat, Gujarat
Graphic Design Services | Creative Graphic Design | Graphic Design Company | Graphic Designing | Web Design Services | Responsive Web Design | Web Design Agency | Web Design Company | UI Design Services | UX Design Services | User Interface Design Services | User Experience Design Services
FAQsFrequently Asked Questions and Answers on UI UX Design Services
What does UI UX designer do?
A UI/UX designer make user-friendly interfaces that enable users, how to use web and app based products.
UI design refers to "user interface design" while UX design refers to "user experience design". UI design is focused on how a product will look and function while UX design is usually focused on the user's journey to solve a problem.
Nothing is easy in UI UX design, hard work and determination is required for a successful UI UX designer.
No, UI and UX both are different things, UI is focused on how a product will look and function while UX design is usually focused on the user's experience to solve a problem.
What programs do UX UI designers use? Which is the best UI/UX design app?
Some of popular UI/UX design tools are given below:
Sketch
InVision Studio
Axure
Craft
Proto.io
Adobe XD
Marvel
Figma
What kind of services form a part of UX design?
UX design services include:
user research
creating personas
designing wireframes and interactive prototypes
testing designs
How much does UI UX design cost?
According to Cleverroad, In the United States and Canada, UI/UX designers charge $50 – $150 per hour. European designers work for $25 – $100/hr while in India UI/UX design services cost $20 – 49/hr.
Does UX design require coding?
UX design does not require coding, But if you are sound in coding then it can surely help in your UX career.
Where can I study UI UX design?
There are many courses available online for UI UX design. Many websites are also offering free and paid UI UX design courses to users. You can learn from there and start your career in Designing.
Can I do ux ui designing with arts stream?
Yes, absolutely. Anyone can do UX UI designing if he/she has interest in it. It does not depend on any stream.