The Ultimate Guide to On-Page SEO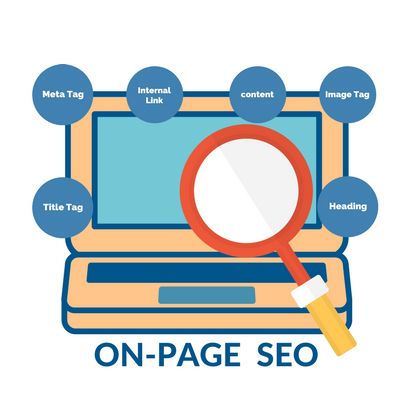 We are going to cover the onpage optimization in below points in this guide:
What is On-Page SEO?
OnPage Search Engine Optimization refers to the practice or method of optimizing a web page code and its content for both search engines and users. On-page SEO is also called as "On-Site SEO".
Apart from generating relevant, high-quality unique content, on-page SEO also includes optimizing your headlines, HTML tags (title, meta, and header), and images. Whether your website is genuine, trustworthy and complies with the authentic and high level of content & expertise is assured by on-page SEO.
Why On-Page SEO is Important?
One cannot forgo the importance of on-page SEO because it helps search engines understand about both your website and its content, as well as it helps in identifying whether it is relevant to a searcher's query or requires any changes.
If proper efforts are put into SEO onpage activities after a complete on-page SEO audit for website, one will witness an increase in traffic and a rise in searchers.
Elements of On-Page Optimization

Wrap Your Webpage or Blog Post Title in H1 Heading Tag(s)
The H1 heading tag is like a secondary title tag. Using the H1 heading tag(s) helps Google and other search engines understand the structure of the webpage or blog post.
Certain platforms add the H1 tag to your blog post title by default. When it's not added automatically, one might need to check the site's code to make sure the title is wrapped in an H1. And also, whether your SEO focused keyword is inside of that H1 tag or not.
Wrap Subheadings in H2 Tags
It is advisable to include your target keyword in at least one subheading and thereby wrapping that subheading in an H2 tag.
Use External (Outbound) Links
External links play an important role in SEO, especially in off-page SEO. It helps Google in finding out your page's topic. It shows Google about the uniqueness & quality of your page.
It's been proven that websites with external links outranked the other sites without them.
Optimizing URLs for SEO
URLs are the most underrated part of on-page SEO.
Here's a tip for your URLs
Make your URLs considerably short
Include a keyword in every URL that you use
Front-Loading Title Tag
The title tag is one of the most important on-page SEO factors as it gives search engines an overview of what your page is all about. Experts consider that the closer the keyword is to the beginning of the title tag, the more importance it has with search engines.
Use of Title Tag Modifiers
One should play smart with keywords to get the target audiences attention. Using various modifiers like "best", "guide", "checklist", "fast" and "review" might help your website rank for long-tail versions of your desired keyword.
Using Unique, Keyword-Rich Meta Descriptions
When optimising, one should never forget about Meta descriptions. Displayed in the SERPs below the title of the page, Meta descriptions, Meta tags describe what the page is about. Not directly but meta descriptions do help with rankings indirectly.
Optimizing meta description correctly will improve:
Click-through rate (CTR).
The quality of the result.
The overall view of what your website has to offer
SEO Writing
SEO writing means writing content keeping in mind the perspectives of both search engines and users.
Besides just keyword research and filling the gaps, there's a strategy involved behind writing unique content apt to get the desired attention.
One should always use content which is unique, reliable, real and relatable.
Unique Content
Unique content means not only the one which is not copied but instead content that brings out something new, innovative and gives the users that inquisitiveness to reach the page.
It can be:
A new strategy
A compilation of curated resources
Strong design and UX
New case study or tips
Streamlined step-by-step process
Valuable Content
Publishing unique content is necessary but it has to be valuable to the viewers as well.
Here's how you can make your SEO content more valuable:
Adding interesting details: Images, screenshots, and steps makes it easy for someone to put your content into practice.
Crisp & precision in writing: Strong copywriting may lead to better engagement
Updated material: Brand new strategies, steps and examples
Expert & experienced authors: Generally, ones who write may or may not be implementing what they say or suggest. Content from writers with the first-hand experience is more valuable than something written by a random writer who does not implement what he says.
Content that Satisfies Search Intent
Satisfying searchers intent is of topmost priority in SEO. Unique, valuable content can get you to the first page of Google but to stay there for a longer time, one should work on fulfilling the intent of the user. If you don't fulfil this, your website will be placed on the 3rd page and won't be amongst the easily searched ones.
Use "Question Title Tags"
Findings suggest that question-based title tags have an above-average CTR. Therefore, it is viable to use questions in your title tags which increases the curiosity of the searcher.
Fill in Missing Meta Descriptions
Missing on a meta description can cost you big in the long run. Certain findings suggest that pages with a meta description got approximately 6% more clicks vs. pages with a missing meta description.
Use Review or FAQ Schema
This is not a direct way to get more clicks or viewers for SEO, but using certain types of Schema can connect with Rich Snippets which can help you get more clicks.
Two of the best types of Schema for getting Rich Snippets are Review Schema and FAQ Schema.
Adding Emotion to your Title Tags
Studies suggest that emotional titles got clicked on 7% more often vs. titles that didn't have a strong emotional sentiment. Titles with an emotional touch which leaves a lasting effect on the users are thus recommended to get your SEO rankings high.
Add the Current Month and Year to SEO Title and Meta Description
This technique won't make or break your CTR.
But it works as an emergency hitter in the minds of the users, which states particular thing is for a stipulated time, for content that can go out of date quickly. Adding the month and year in SEO title and meta description of your webpage makes it clear that your content is up-to-date.
Push Content above the Fold
Searchers want the result of their query as quickly as possible. Therefore, it is recommended to put your headline and introduction in front-and-centre. Important content should be given priority and its placement too.
Chunk your Content
Visitors generally don't read every word on your page. That is why your content should be easy to skim. Highlighting the important chunk is mandatory while other content should be valuable to keep the user's interest intact. Chunking would help here.
Have an Active Community
This is an effective strategy to get engagement & traffic. Having a community on your blog means users would read and leave comments as feedback. This would be useful for other new users and thus having an active community would attract traffic & keep the conversation active after reading your posts. An engaging, trending post is recommended to be shared to maintain consistency.

Advanced On-Page SEO Tips

Use Original Images
Using stock images might be affecting your SEO. Studies suggest that sites with unique images outrank the other sites using stock photos. Using original images helps with Search Engine Ranking.
Internal Linking
Internal linking is one of the major onpage seo factors used for rankings in SEO. One may link high-authority pages on your site to pages that need a boost and divert the audiences there which will indirectly increase the clicks and visitor rates.
Write Comprehensive Content
Google wants to show its users comprehensive content, one which gives the idea of everything in the title. If your post has this, it has a higher chance of ranking.
LSI Keywords
LSI (latent semantic indexing) keywords are terms and phrases that are similar or related to a web page's target keyword. LSI keywords can be said as Google's favourite as it uses them to determine a page's relevancy. Google and other search engines return related keywords based on the main keyword used in a search query.
Boost Your Page Speed
Page loading speed is connected with your website organic rankings. Google has stated the importance of page speed and its connection with rankings. You can improve your site's loading speed by moving to a faster host.
Optimizing Images
Giving every image on your site a descriptive filename and alt text helps Google (and visually-impaired users) understand what each image is showing. You can even make one image optimized around the desired target keyword.
Another reason to optimize your images for SEO is it gives search engines a preview of what your page is about which can help it rank higher.
Rank Your Content in Featured Snippets
Ranking in a Featured Snippet can make a great impact on your CTR. Studies suggest that you need to already be on the first page to get a Featured Snippet.
Voice Search SEO
Growing at a super-fast speed, the current on-page SEO technique is Voice search. The easiest way to optimize content for voice search is by creating FAQ pages. Studies have shown that Google loves to extract voice search results from FAQ pages.
FAQsFrequently Asked Questions and Answers on On-Page SEO
OnPage Search Engine Optimization refers to the practice or method of optimizing a web page code and its content for both search engines and users. Apart from generating relevant, high-quality unique content, on-page SEO also includes optimizing your headlines, HTML tags (title, meta, and header), and images.
What is the difference between On-Page SEO and Off-Page SEO?
On-page SEO refers to those SEO activities which can be performed on the website, while off-page SEO refers to those SEO activities which performed off the website. Both types of activities boost the organic ranking and traffic of the website.
How do you do On-Page SEO step by step?
On-Page SEO Checklist:
Check Website and Conduct an Manual SEO Audit
Keyword Analysis and Research
Finalize Targeted Keywords
URL Mapping and Update URLs
Add/Update Meta tags and HTML tags
Review/Update Page Content and Optimize
Attach Visual Content and Optimize
Interlinking and Optimize for Conversions
Why On-Page SEO is Important?
On-Page SEO helps search engines understand about both your website and its content, as well as it helps in identifying whether it is relevant to a searcher's query or requires any changes. If proper efforts are put into SEO onpage activities, organic traffic will definitely increase.
What are the best On-Page SEO techniques?
Publish high-quality and informative content.
Good combination between high volume and LSI keywords.
URL optimization.
Optimize seo titles and meta descriptions.
Headings and content formatting.
Visual content optimization.
Interlinking.
Page loading speed optimization.
Mobile Friendliness.
Use schema structured data.
Interested in Search Engine Optimization? You might be interested in below SEO related post:
Off-Page SEO – The Ultimate Guide to Off-Page SEO
White Hat SEO – Introduction, Important White Hat SEO Techniques, Pros of White Hat SEO
Black Hat SEO – Introduction, Common Black Hat SEO Techniques, Cons of Black Hat SEO
Grey Hat SEO – Introduction, Popular Grey Hat SEO Techniques, Pros and Cons
White Hat SEO vs Black Hat SEO vs Grey Hat SEO – Difference between White Hat SEO, Black Hat SEO and Grey Hat SEO
Local SEO – A Simple and Complete Guide for Beginners
Ecommerce SEO – Popular eCommerce Platform for SEO, Ecommerce SEO Strategy
SEO Issues – Most Common Problems affecting a Website's Search Engine Performance
Google Manual Penalty – 16 Big Brands Penalized by Google