SEO for Ecommerce Website

We are going to cover the Ecommerce SEO in below points in this guide:
Why SEO for E-commerce Website is Important?
When targeting channels and mediums to amplify your business sales perspectives, one of the important and effective ways is SEO – Search Engine Optimization. It is quite an affordable way to grow your sales at eCommerce store and boost your revenue.
Owning an eCommerce website and selling your products online but not having a strong online presence, will not allow you to take the overall advantage of having a website. Having an online marketplace should have a trusted and reputed destination for buyers, and this will not happen if you are not showing up in Google and another search engine results page. SEO these days is no longer an option for later but a necessity for the present.
What eCommerce SEO Optimization can Do?
-From improvising your organic branding by improving your online visibility on Google and major search engines, SEO optimization can do wonders in attracting targeted audiences.
-It gets your product/service an organic ranking
-From many potential leads, it helps generate quality leads, which can then be converted into online sales.
-When making a cost-effective move, e-commerce SEO is the first preference for making a marketing strategy.
-Not instantly but e-commerce SEO delivers your desired result after some time. It thus provides a long- term revenue.
-Following the best eCommerce SEO strategy can make you ahead of your competitors.
Best eCommerce Platform for SEO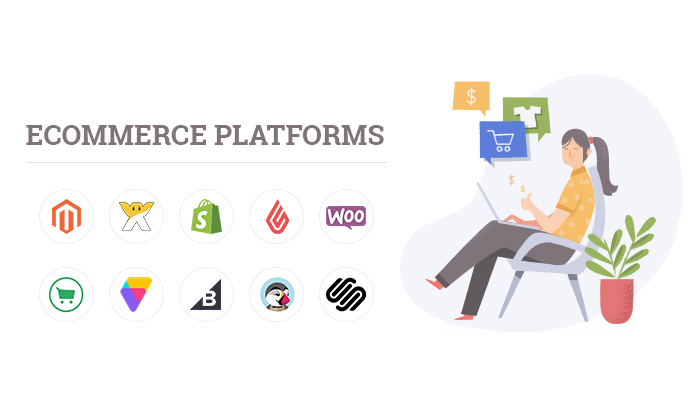 Selecting the right and effective eCommerce platform for SEO is very difficult. But it can be made easy by choosing it according to your business' unique needs, goals, and budget.
Following are the most used eCommerce platform worldwide-
Magento
Shopify
WooCommerce
BigCommerce
osCommerce
Wix
Weebly
Squarespace
GoDaddy
What do our Ecommerce SEO Services Include?
SEO Audits
A robust technical SEO audit based on vendor systems, capabilities, practices, and compliances, etc is done by our SEO experts. It includes SSL certificate check, 301 Redirects check, HTML code check, canonicalization check, CSS and JS minification check, and much more.
Technical SEO Services
To make your website stand apart, our team of experts provide superior services starting from web designing services to Search Engine Marketing.
Our SEO experts are experienced in various CMS platforms like Magento, Shopify, WooCommerce, BigCommerce, Volusion, Yo! Kart, osCommerce, Weebly, Prestashop, ZenCart, GoDaddy, etc.
On-Page and Off-Page SEO Implementation
To generate best results, our team works on optimizing your headlines, product descriptions, and metadata so that your product pages are shown in search results, and grab potential audiences.
Our eCommerce SEO services also include below mentioned major services:
eCommerce Keywords Research and Keyword Implementation
Product Optimization: SEO For Ecommerce Product Pages
Navigation Optimization
Content Strategy
Link Building
Conversion Optimization
External Link Building
SEO Reporting & Ecommerce Focused Stats
Performing a Competitive Digital Analysis
Optimizing Website Content and Code
Creating New Website Content and Creatives
Optimizing and Creating Local Citations
Measurement and Analytics Reporting
Tracking and Tweaking your SEO Campaign
Ecommerce SEO Strategy
SEO strategy is the process of organizing a website's content by topic, which helps search engines like Google understand a user's intent when searching.
On-Page SEO Strategy for Ecommerce Sites
Unique & Engaging Product Descriptions
One of the most important parts of writing unique product descriptions that enhance your brand, engage your audience and educate your shoppers will set your eCommerce site apart from your competitors in a way that is meaningful for both search engines and your customers.
Compatible with Mobile
Mobile is the new BFF of everyone in the world. It has become equally important to Optimize your website for mobile devices. If you run an eCommerce store, you need to prioritize the mobile experience over the desktop experience. Creating a responsive website is thus essential which can integrate with devices.
Increasing Site Speed and Decrease Page Load Times
Comparatively, having a fast website will improve your rankings and user experience drastically as per Google's algorithm. To give your users a better experience you need to consider how quickly your site loads.
Easy Navigation
An easy to navigate site will prove to be convenient for users to track & visit your store. Not only this will help your conversion rate, but also improve your organic visibility as well. Google checks whether or not a user bounces back to the search engines after visiting your site, therefore usability and site navigation plays a huge role here.
Long-Tail Keywords
70% of searches use long-tail keywords, and they are a classic opportunity because they share the user's choice & intent. These keyword phrases are highly relevant and get you the desired audiences.
Include Product Reviews
When creating a website remember to add an app and fields to allow users to add comments and reviews. Many eCommerce platforms like Shopify, BigCommerce, and Magento have apps to add reviews to your pages.
The Title Tag
The title is the most important page element, both search engines and searchers use it in any of their searches. One per page, the title tag is recommended which is unique, and relevant to the product.
Ecommerce SEO Audit
On-page SEO includes several optimizations that you carry out on your website to help improve its ranking. Here's what is done during a website SEO audit.
Evaluate Keyword Usage
Evaluating keyword usage on your website is the first step towards SEO audit. Keywords help your pages to appear in relevant search results in front of potential leads, which can grab more website visits and packed shopping carts.
Analyze your Title Tags and Meta Descriptions
Auditing your title tags and meta descriptions is the next step in your SEO audit.
These two meta tags are the first thing visible to users in their search results. Evaluating these tags will help you assure that you've created required title tags and meta description which will attract the user to click on your website.
Evaluate Your On-Page Content Strategy
When talking about search result rankings, Content plays an important role. The third step is to analyze your on-page content. Customers are always looking for informative,  valuable and unique content, you should create the content keeping their demand in mind. Thorough research & a look over competitors' strategy is a must to evaluate on-page content strategy.
SEO for eCommerce gives you superiority over other competitor sites that are not optimized. More importantly, This makes it easy & convenient for your customers to find everything they want.
FAQs (Frequently Asked Questions and Answers on Ecommerce SEO)
Q: Is SEO important for ecommerce?
Ans: Yes, SEO is the most important digital marketing process for an ecommerce store.
Q: How much does monthly ecommerce SEO cost?
Ans: Ecommerce SEO Pricing are vary from company to company and depend on many factors.
Q: Is Shopify bad for SEO?
Ans: No, shopify is not bad for SEO. Shopify comes with many SEO-friendly features with strong server and security features.
Q: What are the 3 steps to successful SEO?
Ans: The 3 Steps to Any Successful SEO Campaign are:
Step #1: Research on the internet users and their habits on search engines, Get ideas from it and make strategy accordingly.
Step #2: Try to optimize your website (content, code and all) according to potential customers.
Step #3: Provide satisfactory service and support to your website visitors.
Q: Which ecommerce platform is best for SEO?
Ans: Nowadays most of the platforms are SEO-friendly, but WooCommerce and Magento are the best ecommerce platforms for SEO.
Interested in Search Engine Optimization? You might be interested in below SEO related post:
On-Page SEO – The Ultimate Guide to On-Page SEO
Off-Page SEO – The Ultimate Guide to Off-Page SEO
White Hat SEO – Introduction, Important White Hat SEO Techniques, Pros of White Hat SEO
Black Hat SEO – Introduction, Common Black Hat SEO Techniques, Cons of Black Hat SEO
Grey Hat SEO – Introduction, Popular Grey Hat SEO Techniques, Pros and Cons
White Hat SEO vs Black Hat SEO vs Grey Hat SEO – Difference between White Hat SEO, Black Hat SEO and Grey Hat SEO
Local SEO – A Simple and Complete Guide for Beginners
SEO Issues – Most Common Problems affecting a Website's Search Engine Performance
Google Manual Penalty – 16 Big Brands Penalized by Google