Link Building Services

What is Link Building?
Link building is a search engine optimization process of placing one's website or content link on other websites. Links are known to help to build an online presence and create an image of brands which makes them stand apart from the competitors. They also drive traffic and help to generate future leads.
What is a Link Building Service?
A link building service is a digital marketing service conducted by an experienced SEO consultant or an SEO agency that helps a company acquire backlinks through link building activities.
Link building activities include manual blogger outreach, guest blogging and broken link building, among other tactics.
Why Link Building is Essential to Online Success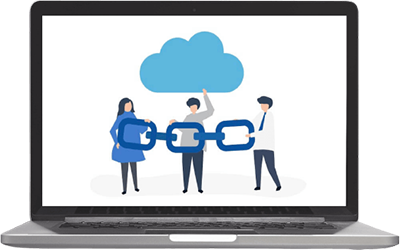 SEO link building plays a crucial part in a company's digital marketing efforts. Building links is one of the many SEO tactics specifically curated to increase ranking signals, acquire more referral traffic and gain brand control. SEO link building allows brands to build new relationships with authority sites, amplify traffic sources and improvise income streams.
According to SEO experts, websites having high-quality backlinks via referring domains earn higher rankings on search engines. More importantly, incoming links from sites with high domain authority (DA) deliver more value to the web pages.
Link Building Tactics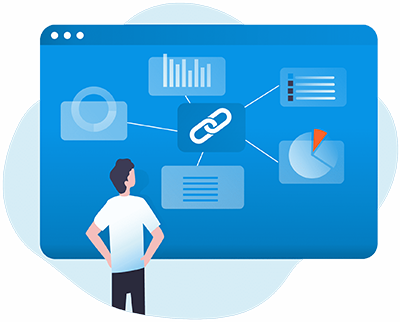 Quality Content
There are certain blogs, newsletters, or podcasts that you often read, listen to, and refer to regularly. You might for its next issue or visit it again & again because they have great content with superior quality, it is data-driven, is written by popular experts in their respective industries.
Such content-based sites, blogs, podcasts have a great referral value. People constantly refer to them verbally and also backlink to these sites.
Unique Research
Certain companies create reports covering multiple verticals or sub-verticals. These reports have unique infographics which makes them highly shareable. By putting out the annual report, companies generate thousands of backlinks from many websites and also generate unique referring domains.
Companies can therefore generate a report that is widely respected and referred in their industry, and hence get a large amount of SEO value, in the form of authority, to their website.
Guest Posting
Guest posting or guest blogging is the process of sharing content or writing content for another website, by expecting a backlink in return. Companies use guest posting to produce superior-quality content on authoritative & popular publications throughout their industry.
Guest posting is known to improve companies' organic reach through SEO, social media, and other digital marketing mediums. It enhances the brand's visibility and enables other companies to trust the brand and its expertise. Companies can often gain a link directly from another website, and also might indirectly gain backlinks from the subsequent readers of their website and blog.
Leverage Existing Mentions
Existing mentions are known to be the key component in link building, they are quite useful in leveraging the company's existing relationships.
One can reach out to websites that have previously mentioned his brand but do not have a link embedded into the content piece. This strategy is a sure shot way to gain new relevant links without reaching outside and by utilizing existing resources.
While searching for existing mentions, it is recommended to check not only brand and website names but also the names of that company's high-profile employees. It is generally seen that unique services or products are often mentioned instead of the business name.
Email Signatures
Email signatures provide an opportunity to promote and share a backlink every time communication is sent to another person or business.
As per a recent study, 47% of marketers said they plan to send more emails, and positively asserted that a well- constructed email signature can help generate traffic and lead and eventually build trust. Including social media, links are essential to provide multiple channel diversions from one place.
Why choose us for your Link Building Services?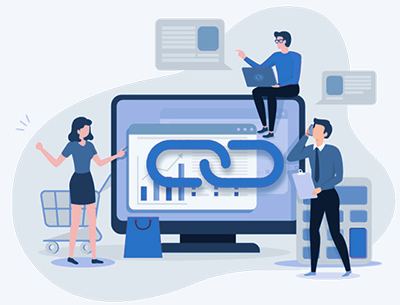 Keyword Analysis
It is a known fact that targeted keywords are used as anchor texts in link building. At Premware Services, our team of link-building experts indulge in unique and extensive keyword research and develop a robust data-driven keyword optimization strategy to receive quality backlinks.
Keyword mapping allows us to create comprehensive content, useful and unique content that ranks high in search results and in return attracts high-quality referring domains.
Competitor Analysis
To maintain a competitive mark in the industry, it is essential to know what your competitors are doing. Our experts do a thorough analysis of your competitors' backlink profiles to identify link building opportunities for your website. Our team differentiates each unique domain based on industry relevance and link obtainability. After proper analysis and segmentation, we utilize the concluded data to develop your SEO link building strategy.
Backlink Audits
Maintaining a healthy backlink profile is very important in attracting quality leads and traffic to your target web pages. Our special team performs in-depth backlink audits to search and bring out those black hat backlinks that can get your website penalized by search engines. We dedicatedly work to get a complete list of your referring domains, assess your backlink profiles, identify weak and valuable links, prepare the audit and carry out necessary steps for improving the ratio of quality backlinks.
Outreach Service
At Premware Services, we aim at managing brands vast database of referring domains, enhance them and instill ease in communication with customers and other companies. Our link building team works to establish robust relationships with webmasters, bloggers, publishers, journalists and industry leaders to boost your backlink strategy. We help in determining your target markets, identify credible websites with the same target audience and evaluate the SEO performance of publishing websites.
Guest Posts
Our link building expert team comprises content specialists, known to create unique, engaging and informative content. We undergo research, analyze appropriate sites and submit guest posts on websites where your potential audience is usually found. To generate more traffic to your content, we also promote your guest posts on your social media pages.
Niche Edits
Requesting link placements on existing blog posts to gain space in an already indexed article is a part of our link building strategy. We communicate to authority websites and offer to add an authoritative, contextual backlink to their existing content. Our link building experts only use white hat niche edits, thus assuring all your inbound links are legal & genuinely earned.
Brand Mentions
Our SEO link building experts perform thorough research to determine your unlinked brand mentions, connect with the content's author and tells them about the additional value of linking to your target page. This practice has been one of the best ways to acquire high-quality backlinks and build long-term relationships.
Broken Link Recovery
Identifying relevant websites with broken backlinks, developing or recreating content that matches the linked sources and reaching out to the publication to tell them about the replacement of content is what our experts are well trained at.
White Label Blogger Outreach
We also offer white label link building which includes blogger outreach. It focuses on securing relevant, sustainable backlinks that improve your clients' search engine rankings. Apart from promoting your clients' content on authority & popular sites, we also avail of brandable white label link building reports.
For best link building services, solutions and improved website rankings, connect with us today.
FAQsFrequently Asked Questions and Answers on Link Building Services
What is a Link Building Service?
What is the best link building tactics?
There are many link building tactics which work if done on high quality sites. Some of those are:
guest blogging
broken link building
infographic submission
document submission
classifieds submission
What is an example of a backlink?
Backlinks are the incoming links a website have from another websites. If other websites link to your site, then you have backlinks from them, same way if you link to another site then they have a backlink from your site.
What are the benefits of link building?
We do link building for backlinks. Backlinks give your site credibility and more authority, which increase organic rank and web traffic that can generate more inquiries and more sales for your business.
How much does link building cost?
According to backlinko, Most outreach-focused link building agencies charge a flat fee for every link that they build. You can expect to pay around $200 for a single quality link. But still the cost is depend on the link building project and the location of the link building agency or your SEO agency.