We are going to cover the Grey Hat SEO in below points in this guide:
What is Grey Hat SEO?
Introduction to Grey Hat SEO – Definition & Meaning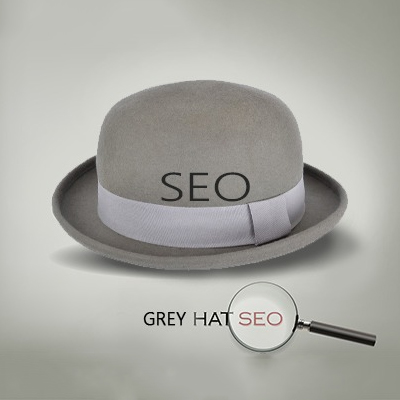 White hat SEO techniques include strategies approved by search engines like Google, whereas techniques which are banned and practising which can lead to Search Engine's penalty are black hat SEO practices.
Grey hat SEO is a combination of both types of strategies – white hat SEO and black hat SEO. One can use grey hat SEO techniques to accelerate the white hat SEO process.
Basically, Grey Hat SEO is the practice of using technically legal methods to improve your site rankings. These are ethically uncertain, and might one day become black hat SEO technique.
There's a reason why Grey hat SEO is not widely known because as soon as the search engines become aware that people are using these techniques, they take steps to prevent them, which ultimately converts a grey hat technique into a black hat technique.
Grey Hat SEO Techniques
Cloaking (partially)
When a user is shown a different result than the search engine, such technique is called cloaking. Here in grey hat SEO, the content presented to the search engine spider is something different but related from that presented to the user's browser. It's an experimental practice which partially violates search engines' rules and guidelines.
Expanding Old Content
It is believed that for generating traffic, long content does wonders. Adding length to your old posts might help you generate traffic. The rule of thumb is that posts of 2,000 words or more can work wonders on your organically generated traffic. You should maintain this length while expanding your old content.
Buying Expired Domains / Purchasing of Old Domains:
This is amongst the most popular grey hat SEO strategies. This technique involves buying an expired domain to improve one's website backlinks. Buying a reputable URL is a must when buying an expired domain. On a safe side, it is highly recommended that you check if search engines didn't penalize it in the past. Moreover, the domain should be apt for your business and should not contain any toxic links.
Using Private Blogging Network (PBN)
Generally, PBN is known & accepted as a grey hat SEO strategy. But this is considered as a black hat SEO strategy when you build your PBN using irrelevant backlinks and duplicate or pirated content. If it used for creating unique original content for relevant topics, it falls into the grey hat SEO technique category.
Use of Social Bookmarking Sites
Another Grey Hat SEO technique is submitting your website links on social bookmarking sites, this can help your SEO ranking. One should avoid overdoing it. Sharing links once or twice on such sites is preferable and can be the best approach.
Submitting Your Website to Web Directories
This is a grey hat technique for generating high-quality backlinks. You can get relevant and high-quality free backlinks by submitting your website to certain relevant web directories. There are special categories under which you can list your website. As there are multiple web directories available, it is recommended to do proper research and submit your website only to web directories that can generate high-quality worthy backlinks.
Multiple Social Media Accounts (Social media automation and purchasing followers)
It might be your misconception that only your content can improve your rankings. Search engines also look into social media accounts/social signals. You should have multiple social media accounts to improve your social presence. Having only one account on a social media network is considered white hat SEO. But it is considered as a grey hat SEO when you create multiple dummy accounts on social media. These dummy accounts can help you increase your post likes, followers, shares, and traffic.
Getting Positive Reviews
This is quite a good technique to get engagement from your clients. You might have or have not listed your business on review sites yet.  Listing is a must for any business or brand as it will improve your search engine rankings when customers give positive reviews about your brand.

Building a Microsite or Blog
Yet another strategy to generate backlinks for your primary website is by building a microsite or a blog. The good news is that this grey hat SEO technique can improve your search engine ranking without breaking the search engine rules. When you use high-quality backlinks, you are in total control of the content. Your microsite or blog shouldn't be using any duplicate content.
Link Building Using Web 2.0 Submission
This grey hat SEO technique is for improving the quality and relevancy of your website using dynamic content. Some well -known examples of Web 2.0 are Wikipedia, Quora, and Medium pages.
Negative SEO
Negative SEO practices are forcing other websites above you down in the rankings to help your website ranking. Some of the techniques are as follows –
– Pirated content
– Promote non-offending content – "Insulation"
– Google Bowling
– AdSense Banning
– Site Infection
– Tattling
– Denial of Service Attacks (DoS)
– Click Fraud
Free Vouchers
The word FREE attracts attention very easily. Everyone likes getting something for free, using voucher codes for relevant products on your site will bring the desired traffic. You can place pop up vouchers on your site to check the results. This is not plagiarism or duplicated content, but if you push this on Twitter, Facebook etc. You may be able to attract lots of traffic.
Pay for Reviews
You might find plenty of people who are ready to write reviews on websites in exchange for money. They will write about any and everything as long as they are getting paid. This technique might prove to be quite useful for a specific campaign or over a particular time.
Will Grey Hat SEO Help Your Website Rank Higher?
Yes, under some conditions, grey hat SEO techniques can help your website rank higher in search engines. But It isn't recommended that you use these techniques. It is essential to keep in mind that these strategies can get converted into black hat SEO anytime. One should remember that Google can penalize your website for using black hat strategies or permanently remove it.
Using Grey hat techniques as a shortcut to get better rankings might not be fruitful in the long run but Great SEO, good content and a well-planned out business, that's what will give your site the competitive edge and leverage its ranking.
FAQs (Frequently Asked Questions and Answers on Grey Hat SEO Techniques)
Q: Are Grey Hat Hackers Punished?
Ans: As we all know that grey hat hacking is illegal, regardless of the purpose… So a grey hat hacker should expect to be punished by disclosing a company's vulnerability.
Q: What is a White Hat SEO?
Ans: White hat SEO refers to all the techniques that operate under the rules and expectations set by the search engines and their users. White hat SEO is slow in operations as it works and is depended on the standards set
by Google and other search engines.
Q: What is the difference between Black Hat and White Hat SEO?
Ans: Black hat SEO refers to a set of practices that are used to increase a site or page rank in search engines through means that violate the search engines' policy/terms of service. While White Hat optimization is said to be the exact opposite of Black hat optimization. White hat SEO refers to all the techniques that operate under the rules and expectations set by the search engines and their users. When compared to black hat SEO techniques which increases website traffic from search engines very fast, white hat SEO is slow in operations as it works and is depended on the standards set by Google and other search engines.
Q: What are the different types of SEO Techniques?
Ans: There are three types of SEO techniques according to search engine guidelines. These are: White Hat SEO, Black Hat SEO and Grey Hat SEO.
Q: What are Black Hat SEO Techniques?
Ans: Black Hat SEO techniques are those practices that are used to increase a site or page rank in search engines through means that violate the search engines' policy/terms of service. Some of the major black hat SEO techniques are Cloaking, Doorway Pages, Keyword Stuffing, Invisible Text, Article Spinning, Duplicate Content, Paid Links, Sneaky Redirects, Typosquatting or URL Hijacking, Negative SEO, Content Automation, Guest Post Spam, etc.
Interested in Search Engine Optimization? You might be interested in below SEO related post:
On-Page SEO – The Ultimate Guide to On-Page SEO
Off-Page SEO – The Ultimate Guide to Off-Page SEO
White Hat SEO – Introduction, Important White Hat SEO Techniques, Pros of White Hat SEO
Black Hat SEO – Introduction, Common Black Hat SEO Techniques, Cons of Black Hat SEO
White Hat SEO vs Black Hat SEO vs Grey Hat SEO – Difference between White Hat SEO, Black Hat SEO and Grey Hat SEO
Local SEO – A Simple and Complete Guide for Beginners
Ecommerce SEO – Popular eCommerce Platform for SEO, Ecommerce SEO Strategy
SEO Issues – Most Common Problems affecting a Website's Search Engine Performance
Google Manual Penalty – 16 Big Brands Penalized by Google