Why Choose Microsoft Azure Cloud for Your Enterprise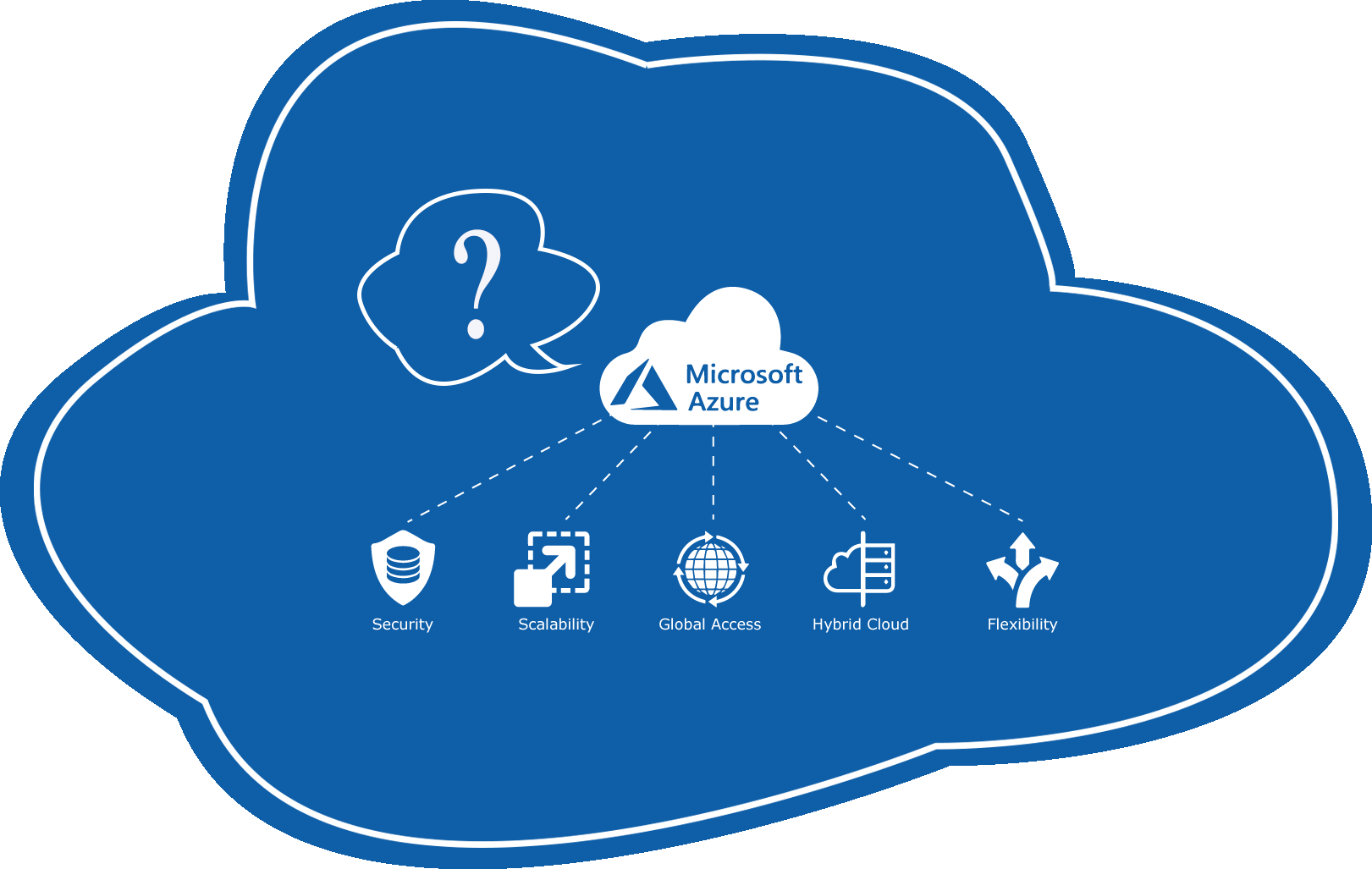 In this fast-paced technological era with cut-throat competition, where upgradation & innovation is a must, companies across the world are opting to be tech-savvy & acing towards being the digital giant.
Major companies are not delaying in realizing the importance of Cloud & its services for the growth & success of the business. But which cloud application service to use has been a constant dilemma for many. Is your company also stuck between which option to choose for the cloud?
Well without any doubt Microsoft Azure should be your call.
Here's the reason to support:
• Global Presence
Microsoft aces in terms of no. of data centres and its regions across the globe when compared to any other cloud services assuring higher data redundancy.
Azure uses technology that minimizes IT disruptions by providing business continuity through redundant, fault-tolerant, or failover-protected components inside the same data centre. (According to Terminology definitions, Microsoft )
• Fits in your Budget
Microsoft's model is budget-friendly, it charges as per pay-as-you-go, allowing you to pay for what you use to curate or expand resources using Azure services. Your servers and cloud storage can be sized accordingly to curb your needs.
• High Security
Being designed as per the leading security process of SDL, and abiding by the industry-specific standards of ISO 27001, PCI DSS and HIPAA, Azure guarantees the best protection and multi-level security for all the confidential data held by your company on the cloud with a standard security model to Access, Detect, Diagnose, Close, and Stabilize. Not only that but Azure also offer multi-level protection, cybersecurity controls, multiple compliance certifications, and threat mitigation practices.
• Flexibility and Scalability
Making it stand apart from other cloud services is Azure's unique feature of scalability, which is quite flexible. This help businesses to integrate data and processes at cloud scale. Having a flexible work environment, it becomes easier for organizations to use its machine learning functionality, data processing capabilities, cognitive services, and Internet of Things (IoT) capacities to develop, test, and launch new web applications.
• IaaS, PaaS, and SaaS Availability
Microsoft Azure avails a unique amalgam of IaaS, PaaS, and Saas services, thereby making it possible for businesses to allot simple virtual machines or full application stacks over a cloud arena. With the help of IaaS model, the developers can access, monitor, and manage remote data centre infrastructure whereas PaaS model of the Azure cloud offers them a framework to develop, test, and deploy customized applications quickly, while leveraging pre-built cloud applications over the Internet is allowed by Saas model. This works great for business growth.
• Unique Hybrid Capabilities
Facilitating easy mobility and a reliable and consistent platform between on-premise and public cloud makes Azure a first choice of the users. To improvise the usability and performance, it offers virtual private networks (VPNs), caches, content delivery networks (CDNs), and ExpressRoute connections.
• Easy Integration
Another reason for a major market share that Azure cloud has is due to its easy integration feature. Businesses are easily able to integrate with Azure's cloud services as Azure utilizes the same virtual machines (VMs) Windows and Linux used by them on-premises. Moreover, Businesses which are reliable on varied Microsoft services, like Outlook Office 365 services and SharePoint, can integrate Azure's cloud services with those tools efficiently and seamlessly which saves them both time and money.
• Analytics Support
Azure cloud services enable businesses with improved analytics for ease in decision making by offering SQL and NoSQL data services. Unlike other cloud services, it is the only platform that offers Blockchain, Machine Learning, Bots, and Cognitive APIs capabilities.
• Identity Management
Built with Identity management capabilities, Azure cloud monitors whether the right users get to access the right information. Businesses can benefit from this feature as it considerably reduces their identity management costs.
Above features and facilities makes Azure cloud a sure shot choice for business growth and success. Though knowing your business requirements, its shortcomings and budget are necessary to ponder upon before choosing Azure. For detailed consultation, you can contact us today as we are the leading Azure consultants in market.
Interested in cloud? You might be interested in our below cloud related blogs:
Why Switch to the Cloud? – 11 Advantages of Cloud Computing for Business
Cloud Servers vs Physical Servers: Definition, Features, Pros and Cons of Cloud and Physical Server
Azure Vs AWS: Why choose Azure over AWS?
What is a Virtual Machine (VM)? – The Benefits of Virtual Machines
Cloud vs Virtualization: What's the difference between Cloud Computing and Virtualization?