Azure Vs AWS
Struggling with the dilemma about which one to prefer over the two incredible giants Azure and AWS for cloud platform? Well, we have got it easier for you to bust your confusion between Azure vs AWS and get the solution with real facts and figures.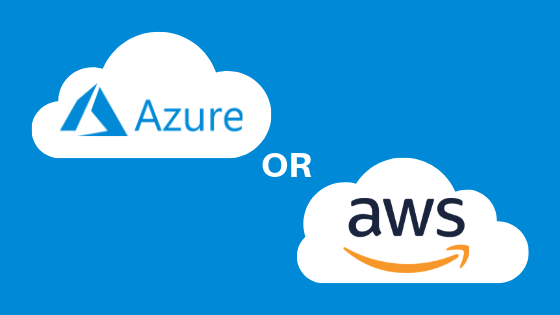 Why prefer Azure over AWS?
When it comes to cloud, Microsoft Azure and Amazon Web Services are constantly battling over the competition. They are the leaders in this arena and that's the cause of our never-ending debate of which is better in terms of performance, speed, pricing and more. Here's a quick factual go-through of why choose Azure over AWS?
Irrespective of its date of entry, Azure has left behind AWS in the context of functionality.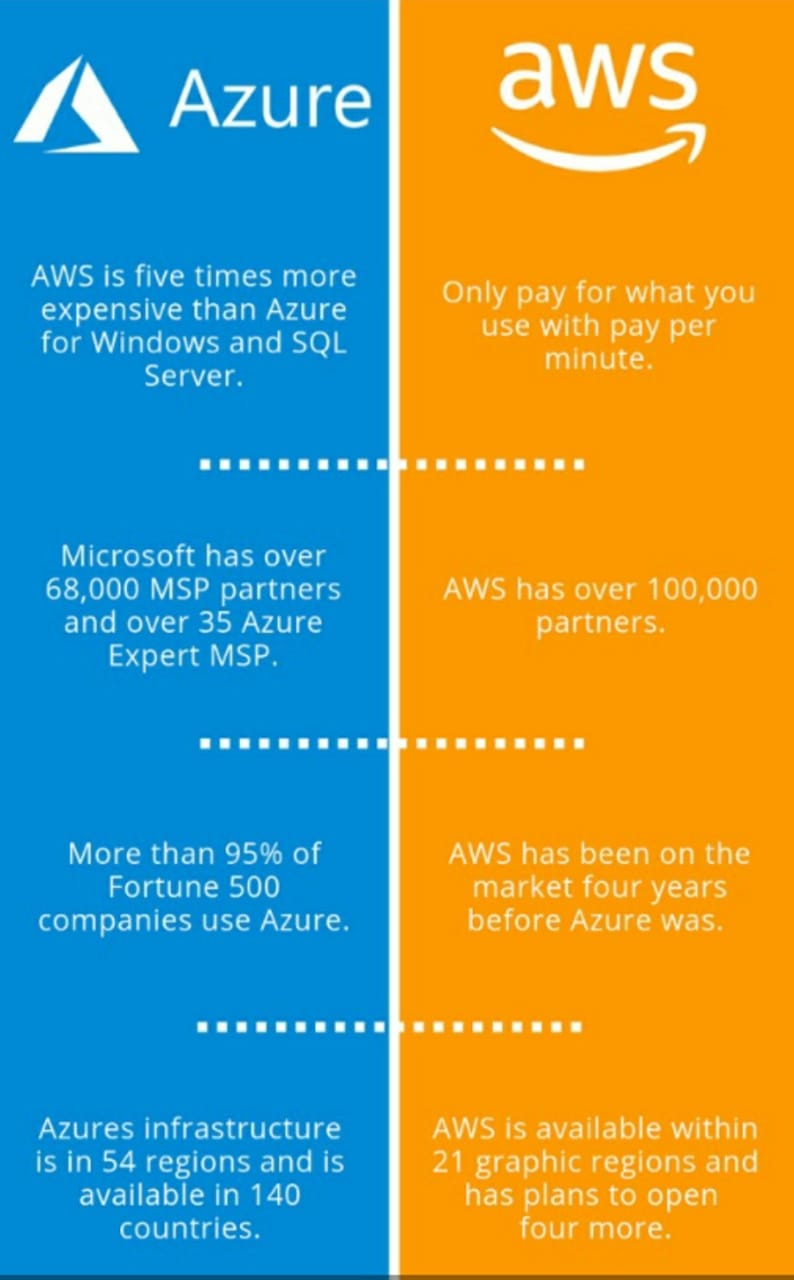 Image Credits – Cloud Direct
The major areas in which Azure aces over AWS
Market share & centres
Consistency
Ease for Developers
Market share & centres
Leading the market in delivering data centres not just in the country but globally with 60+regions, Azure is simply ruling the world.
Consistency
Being as a key member in IT service provider since generations, Microsoft has high support for hybrid cloud services incubating varied platforms in it like azure StorSimple and azure stack. It allows encapsulating full functionality to your own on-premises data centres using the most preferred pay-as-you-go pricing model making it convenient for the users. A hybrid variant is generally useful for Application portability, Identity management, Workload portability, Security management and Application development.
Ease for Developers
Azure is more of a developer centred service including features like Infrastructure as a Service, Software as a Service, and Platform as a Service. The transition from the initial stage to the final product is quite quicker here, which is a boon for the developers. Apart from basic functionalities, Azure supports developers with even more benefits such as –
-100+ services
-Application delivery
-Flexibility in terms of usage of any language, app, framework, development tool
-Open-source project support
-Development intelligence
-Blockchain as a Service, machine learning, cognitive APIs-Agile development practices
Reasons why Choose Azure Over AWS?
– Cost Savings Perks on Agreement
Companies which are using Microsoft products are bound to have an agreement with Microsoft, as a benefit from this, companies are given the perks of having discounts on bulk licensing and also on products like Azure. Hence, a good amount of cost-saving is enjoyed when one chooses Azure over AWS.
– Better Service Options
In terms of availability of service options, one cannot deny that azure is better than Aws. As discussed earlier, Azure is a boon to developers. It facilitates them in numerous ways in terms of service support, application delivery, language, tools etc. making it flexible, easy, efficient & convenient for the developers thereby making innovation possible.
– Compatibility
Another reason why Azure nails in the cloud service arena as compared to AWS is its compatibility with the programming language, .Net. It has a pelota of upgraded services in addition to the familiar environment for .net developers. This includes Node, PHP, Java etc to help building applications via support of different platforms.
– User Friendly
One more answer to why azure over AWS, AWS is not that user-friendly when compared to Azure. Azure has with it the in-store functionality which its users are already using, used or accustomed to, such as virtual machines, Linux, Active Directory, and Windows. It makes an easy work environment for them in the context of management, tools, apps etc.
– Security and Compliance
In terms of security, when asked is Azure better than AWS? The answer follows- The new and advanced version of Azure possesses the design and features based on Security Development Lifecycle (SDL) which is considered as the major assurance protocol in the industry. All services are protected while on Azure Cloud.
– Integrated Environment
Azure has an array of an integrated environment for testing, developing, and deploying cloud apps. From Azure or AWS? Where AWS is commonly perceived as being complicated, azure is flexible as it offers multiple choices to clients in terms of frameworks, and open development languages.
-Pricing
While comparing Azure vs AWS in terms of price, AWS is 5 times more expensive than Azure for Windows Server and SQL Server.
-Future Focused
In the debate of Azure vs AWS, when it comes to being more future-focused & innovation, here's the answer to who is better- With Continuous innovation from Microsoft, your company's development and growth accelerates highly in present as well as it prepares for a progressive future.
In just a little period, Azure offered over 1,000+ new capabilities including incredible advancements in areas of AI, machine learning, virtualization, Kubernetes, and databases.
Impactful Insights
With the unique cloud-native analytics service by Azure, one can get precise & useful insights while on data interrogation. These analytics helps reduce cost and saves a lot of time. Insights are generated faster in Azure when compared to other service providers.
In the war of cloud, although, it all depends on what your business needs and requirements about choosing the appropriate cloud services, many enterprises have observed consistent business growth by opting Azure. As a result, Azure happens to be a better choice compared to AWS.
Interested in cloud? You might be interested in our below cloud related blogs:
Why Switch to the Cloud? – 11 Advantages of Cloud Computing for Business
Why to choose Azure Cloud: 10 Reasons Why to choose Microsoft Azure Cloud for Your Enterprise
Cloud Servers vs Physical Servers: Definition, Features, Pros and Cons of Cloud and Physical Server
What is a Virtual Machine (VM)? – The Benefits of Virtual Machines
Cloud vs Virtualization: What's the difference between Cloud Computing and Virtualization?