Web Design vs Graphic Design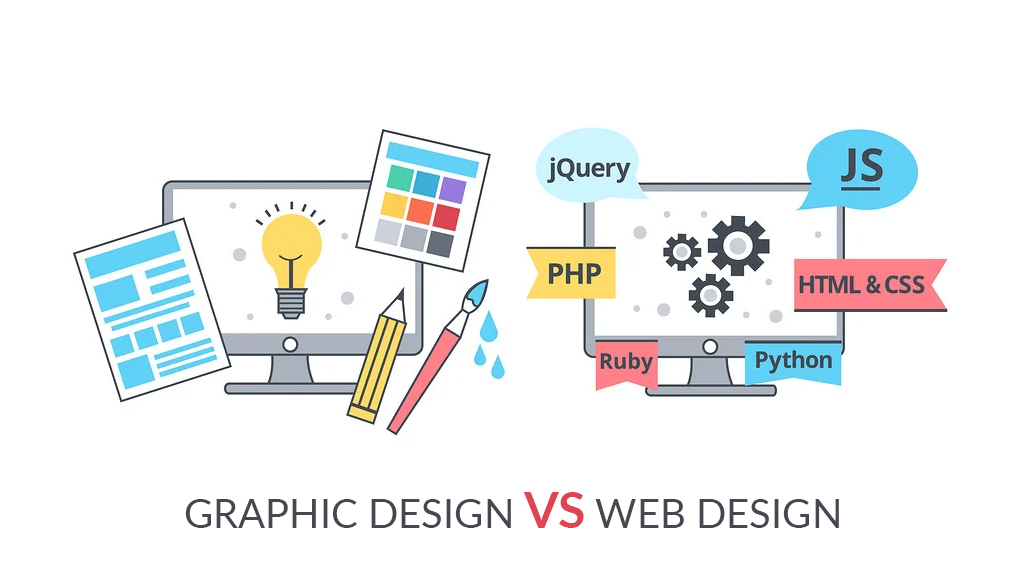 To many, who are unaware or astray from the designing industry, both web design & graphic design may feel the same. Though both have different work perspectives from technical & profile viewpoint, let us know about each in detail.
What is Web Design?
Concerned with website design, Web design involves a set of varied skills and disciplines in the creation, development and maintenance of websites. It includes web graphic design; interface design; authoring, including standardized code and proprietary software; user experience design; and search engine optimization.
Required skills: JavaScript, Jquery, PHP, web development, application development, UI design
Web Design Tool: Mockplus — website prototyping tool,
Adobe Dreamweaver — website editing tool
What is Graphic Design?
Graphic Design is the visual communication of an idea or concept. It involves merging creativity with strategy, communication with brand savvy and aesthetic with logic.
Graphic design can use image-based designs or type-based designs or both. It involves photos, banners, illustrations, logos and symbols. These designs can include various combinations of lines, shapes, colour and texture.
Required Skills: Adobe Creative Suite, typesetting, concept development, marketing material
Graphic Design Tool: Adobe Photoshop, Adobe Illustrator, CorelDRAW
The difference between Web Design & Graphic Design
Technical Skills
Technical skills are the key identifiers and differentiators between graphic designers and web designers. Web designers are required to have a basic knowledge of HTML, CSS, and know how to make a design work on the web. While graphic designers are needed to be familiar with software like CorelDRAW, Photoshop, Illustrator, InDesign etc. one can fully customize the graphic design without too many limitations. But with web design, one has to consider technical constraints like file size and load time.
Colour Mode
Considering the comparison of the colour mode used in graphic and web design, there is a big difference. As printing is involved in graphic design, it usually uses CMYK colour mode. Because the colour use in graphic design is more focused on visual flow guidance and visual impact. On the other hand, web design uses RGB focusing more on teasing out the relationship between the information structure (for product category).
Nature
Graphic design is usually considered permanent or static taking into account many designing formats. For example, in print design formats, when the designer designs a book cover or a poster, once it's printed, he can't make any changes. Whereas, Web design is a dynamic medium. It possesses the power and flexibility to change and adapt. A company might go through a complete redesign of their website every year.
Interaction
Web design allows the user to interact with the design. By clicking a button, one can navigate through various web pages, there may even be motion graphics and videos on a webpage. Comparatively, Graphic design is less interactive. One can look at it, touch it, but it doesn't change when interacted with it.
DPI and Pixel Dimensions
DPI is one of the differentiators while comparing web vs graphic design. Technical constraints like file sizes and load times are a matter of concern for web designers. Whereas, file size plays less of a factor in graphic design. The image used on the web vs on a printed layout will vary significantly in size. This is due to the DPI (dots per inch) and pixel dimension. Images for the web usually are saved in 72 DPI while graphics need to use 300 DPI.
Typography Constraints
There are generally no typography constraints in graphic design but even despite some technological advancements' typography is still restricted on the web. While building a webpage, one may specify a certain font in the CSS but if the user's browser doesn't support it, the design may resort default to a basic font replacement. To overcome this barrier, it is recommended to specify a font stack so that the browser has multiple fonts it can choose from. This simply involves a font-family value consisting of multiple font names separated by commas.
Continuity
Talking about continuity in graphic vs web design, websites require continuous maintenance even after they're designed. Since the web is dynamic, one can make necessary changes as and when required.
Certain formats in graphic design don't sync in with the continuous changes format. For example, once the work is sent to print, it's done. If there are changes, there will be a new version of the same design. Reprinting and distributing graphic design are also costly.
Working with Different Professionals
Being a web designer, the client might require you to use a pre-existing CMS, or coordinate with a web developer to enhance the UI design mock-ups and bring them to life. While as a graphic designer, one may work with a production artist, creative director, editor etc. who helps in the process from concept to final production.