Video Marketing Services
What is Video Marketing?
Video marketing is the use of video in the marketing strategy to raise awareness, create engagement, and drive sales. It's a part of digital marketing and overlaps with content marketing.
Video marketing can be used for multiple purposes ranging from engaging with the customer to promoting your brand, services or products. Additionally, video marketing can serve as a medium to present how-to's, promote customer testimonials, live-stream events and deliver viral content.
How Video Marketing Works?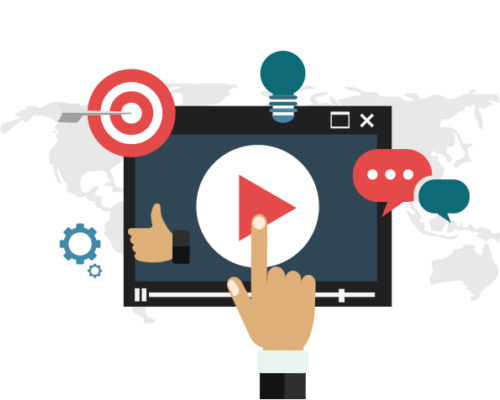 To develop your video marketing strategy, the following are the basic requisites-
Prepping Up with the prerequisites – Before initiating your video marketing campaign, certain prerequisites are supposed to be taken care of – like some budget for video, the latest or decent equipment, good editing software, and a video marketing expert team– as well as time to create it.
Creating a story – A flat message does not attract customers, rather a video with an emotional connect, a story & a message is what engages the audience. Storytelling has been quite an important part of the video, and this requires efficient brainstorming. Matters like what stories do you want to tell? How will you tell them? To your audience are encountered & solved here.
Engagement – Simply creating a story is an incomplete part of video marketing. Brands also must engage the audience and consider their preferences. While making engaging videos one must consider the following – How will you make your stories interesting? What will hook your audience?
Precise & Simple – While there's no particular limit for the length of marketing videos but the basic rule is that shorter is better & convincing. It is recommended to cut out everything extraneous that expands the length of the video.
Publishing the videos – Before publishing the video, it essential to decide the platforms across which it will be published and when & how. Experts recommend publishing the videos far and wide – embedded in your website, uploading them on YouTube, and all social media channels. Then, promote according to the budget & desired goals.
Analysing the performance – Once the video has been published on multiple platforms, one should track metrics and stats, to determine which videos are performing the best, getting engagements– and why.
Examples of Video Marketing
Demo Videos
Demo videos are designed to present your audience about how your product works — that might include taking viewers on a tour of your software and how it can be used or unboxing videos and putting a physical product to the test.
Brand Videos
Being a part of a larger advertising campaign, brand videos are created to deliver the company's high-unique vision, mission, or products and services to its audience. The main purpose is to build awareness about the company to thereby attract the target audience.
Event Videos
These types of videos are generally made a business is hosting a conference, round table discussion, fundraiser, or other events. It includes the details of the events, glimpses, interesting interviews and presentations from the gathering.
Expert Interviews
To gain trust and authority among the target audience, brands are switching towards video marketing. By shooting interviews with internal experts or prominent leaders in a particular industry they're creating quite an impact on the minds of customers.
Educational or How-To Videos
When introducing a new product or a service, customers are unaware of how to use it and when. To solve this issue, brands are creating instructional videos that can be used to teach the audience ways to use the product, some additional information on the technology etc. to better understand business and solutions.
Explainer Videos
With advancing technology, many products/services are launched regularly. Audiences many times are unaware of which product is best suitable for them or which to select for their specific use. To resolve this problem, an explainer video is used to help your audience better understand why they need your product or service.
Animated Videos
Every product or service requires a unique presentation or marketing strategy to grab the attention of the audience. One unique way is via animated videos. Animated videos can be a great format for difficult concepts that need strong visuals or to explain an abstract service or product.
Case Study and Customer Testimonial Videos
To ensure the audiences that your product can solve their specific problem is by creating case study videos that feature your satisfied, loyal customers. These customers can instil trust in others easily. Brands can get them on-camera describing their challenges and how your company helped solve their problems
Live Videos
According to a study, viewers spend up to 8.1x longer with live video than with video-on-demand. Creating a Live video enables the viewers to get a sneak peek of the company, thereby making it look more original & convincing. It also draws longer streams and higher engagement rates.
360° & Virtual Reality Videos
To bring customers closer to the product/service to make it feel more authentic, brands are using virtual reality (VR) which allows viewers to navigate and control their experience. By enabling 360° videos, viewers "scroll" around to see content from every angle — as if they were physically standing within the content.
Augmented Reality (AR) Videos
Taking imagination to the next level, brands are adopting AR-style video, in which a digital layer is added to what you are currently viewing in the world. These are proving to be quite effective & engaging.
Benefits of Video Marketing
Connect:
Videos are a great source that helps you connect with your audience. Video bridges the gap and simplifies the narrative of the product or service, thereby instilling trust amongst the customers and helping them get to know your brand better.
SEO (Search Engine Optimization):
More than a boon, video is an SEO gold mine. It helps in building backlinks to your site, boosting likes and shares and driving traffic to your site.
Information Retention:
Videos boost information retention. As videos showcase audio & visual presentation, it has a larger impact on the audiences in terms of remembering it which ensures retainment as compared to other ads where the crust can be forgotten with a period of time.
Studies have shown that four times as many customers would prefer to watch a product video than read a product description.
Challenges of Video Marketing
Cost:
At a certain period of time, the cost is a serious challenge to video marketing. The cost of equipment, editing software and, from an end-user's perspective, the data cost of consuming online video is very high.
Experienced Team:
Businesses need a marketing team with experience in video. Individuals who have proven experience and certification are preferred which in turns is an added cost for the company.
Effective Strategy:
How to build a solid and effective video marketing strategy, how to create content that people want to consume, and how to create engaging videos that get shared is also a challenge business face in the current competitive times.
Understanding of Metrics:
Video content marketers need to have a solid understanding of metrics to know the video's success and areas for improvement. Without such knowledge, all marketing efforts would be futile.
Best Practices for Video Marketing
A flexible & Robust Video marketing strategy : Strategy plays a crucial role in video marketing, for a successful outcome businesses must plan, test, analyse, and test again.
Brands must take care of whether the videos designed are aligned properly with the sales funnel. What is the purpose of each video? Who is the audience? How does the video further your marketing goals? All these should be precisely planned & designed according to the data gathered. Strategy and data should drive your video marketing strategy.
Want to try video marketing to up your sales & growth? Connect with us for the best video marketing solutions today.
FAQsFrequently Asked Questions and Answers on Video Marketing Services
What are video marketing services?
Video marketing is a process to raise awareness, create engagement, and drive sales by the use of videos in the digital marketing strategy.
What does a video marketing agency do?
Video Marketing Agency creates video marketing strategy that can serve as a medium to present how-to's, promote customer testimonials, live-stream events and deliver viral content. Video marketing can be used for multiple purposes ranging from engaging with the customer to promoting your brand, services or products.
What are the types of video marketing?
Below are the major types of video you can use in your video marketing strategy:
Demo Videos
Brand Videos
Event Videos
Expert Interviews
Educational or How-To Videos
Explainer Videos
Animated Videos
Case Study and Customer Testimonial Videos
Live Videos
360° & Virtual Reality Videos
Augmented Reality (AR) Videos
What are the benefits of video marketing?
Some of the major benefits of Video Marketing are as below:
Increase SEO and Online Visibility
Increase Web Traffic
Help in Trust Building and Credibility
Higher Attention
More inquiries
Higher Conversion – Grow Revenue
How do you create an effective marketing video?
To make your Video Marketing Successful:
Creating a story for the Video
Engage the audience with the Video
Create Precise & Simple Video
Publishing the video
Optimize Your Video for SEO
Share video on different platforms
Analysing the performance of Video