Top 10 Graphic Design Trends for 2021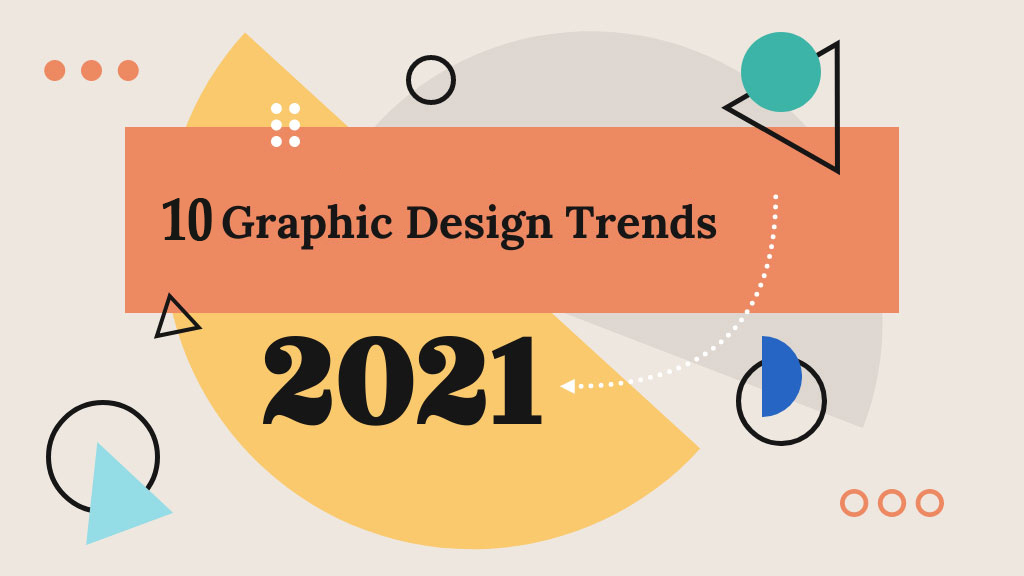 Graphic design is an art where designers create appealing visual content to communicate the desired messages. To optimize the user experience, designers use typography and pictures to meet user's' specific needs and focus on the logic of displaying elements in interactive designs by instilling visual hierarchy and unique page layout techniques.
It's been quite noticeable that the world of graphic design has been an ever-changing landscape. One might come up with multiple brilliant ideas as per the trends as they keep changing year after year. Changing trends helps designers to constantly improve their skills and align them with the latest trends to get the maximum benefit.
As expected by many design experts, 2021's graphic design trends are focused on putting people first.
1. Soft Colours
Unlike vibrant colours, soft or muted colours are lower on the saturation part. They signify calmness, peace, patience, safety & security. As they are known to give a natural feel, such colours are predicted to mostly be preferred by health, wellness and NGO's in the upcoming year.
2. Quirky Characters
The design has the power to tell a story & leave an imprint on viewers heart forever. Experts are looking to instil some quirky characters instead of abstract visuals in 2021.
A pre-planned and unique concept illustration for such a trend can surely make the brand go viral.  This can range from detailed cross-hatching to the simplified shapes, lines, and colours of modern cartoons and characters to narrate a story using a product or service. Humour, fun, wit, ideas, and much more can be used to emote via characters to send across the intended messages.
3. Comics and Pop Art
The 2021 year in design is being expected as a fusion of grainy colours, the heavy inking and the action lines of vintage comics.
From the era when they've been introduced to the current times, Comics have been using halftones, or simplified dot shading, to represent colour. The trending minimalist design used nowadays can be much benefitted using such comic-based patterns & give the design a new fresh look. An infusion of comic & pop art can even be useful to web designers and help them break the grid with varied unique panels and skewed shapes to emote and instil a sense of drama and motion in their designs.
4. Fine Art Infusion
We have always seen the difference between fine art and design, but 2021 seems to bridge the gap with the union of these two. Experts are predicting techniques such as acrylic brushstrokes and abstract expressionism to enter the world of graphic design across the world.
Using painting infuses designs with surface variation and depth, giving it a realistic look just like one can feel and want to touch. This trend is expected to perform well with physical products packagings like wine labels and cosmetics.
5. Elements of Nature
With the advancement in the graphic design trends in sync with the go green culture, leafy patterns, earth-tone colour schemes or illustrations of breathtaking vistas are taking the design to the next level. Such design and patterns impart serenity, renewal and growth which most of the businesses are expecting in the upcoming year. The best part about this trend is we are seeing it reach beyond environmentally-oriented products.
6. Blur and Grain
In 2021, designers will be looking to set off on a new trend instilling more blurry and blended backgrounds. Designers are planning to transform the transitory feeling and make it feel real-to-the-touch by adding a grain filter.
As Grainy textures and a blurred image can evoke shadows and the unseen, this trend is thus a mood we expect to see as the tool of choice for designs with a dark side.
7. Classic Serif Fonts
From being the oldest to still being much in use, Classic serif fonts are designers' favourite. Being a classic, elegant & easily adoptable in varied designs, these fonts are known to create a nostalgic impact on the viewers. Companies dealing with finance & associated services are highly expected to use serif in the coming year in their marketing material.
8. Videos with Heavy Text
Companies would continue using videos to usher their audiences towards imparting knowledge and keeping them engaged. To make the videos more alive and descriptive, more text will be used in the coming year. This will save a lot of time and be convenient for designers while working remotely as well.
9. The Power of Symbols
Historically, symbols like these have been about universality. Whether this comes in the form of conveying warnings or identifying a cause under shared iconography, the power of classic symbols lies in their ability to transcend language. Designers are leveraging this power in 2021 to create aspirational icons of resilience, growth and empowerment.
10. Overlay and Overlap
Experimenting with overlay & overlap design patterns is what designers are expecting as a graphic design trend in 2021. This approach creates an additional depth to the picture. It also catches the user, motivating him to view the image in more detail. Designers have more creative options while using the overlay pattern, this includes – make one element translucent for connecting images; overlapping one element by another; creating linear images on top of illustrations; overlapping fonts using colour; a combination of photographs and drawing.