Conversion Rate Optimisation Services
What is Conversion Rate Optimization?
CRO (Conversion rate optimization) is the process of optimizing website landing pages based on the behaviour of the users to improve the probability of the visitor taking desired actions (conversions) on the same page. It involves maximizing the effectiveness of your website by turning your visitors into customers.
This type of marketing services like Conversion rate optimization from a trusted conversion optimisation company can increase the percentage of your site visitors who complete a desired goal, such as filling out a form, purchasing a product or downloading an eBook.
Benefits of CRO services:
Improving Marketing RO
Increasing conversion rates
Increasing website traffic
What do Premware's CRO services include?
Conversion optimization is a powerful tool to increase your organic traffic. Conversion optimization services from a results-driven CRO agency can drastically improve your conversion rates and the return on your other digital marketing investments. The correct CRO marketing strategy can upscale your revenue even with the existing number of website visitors.
We offer the following CRO services:
In-depth audits, manually performed by a website conversion expert
Extensive conversion marketing research, covering each stage of your sales funnel.
Examining search query intent
Landing page layout and content
Establishing a strong value proposition
A compelling call-to-action
An intuitive and user-friendly checkout/contact process
Data-driven recommendations to raise your conversion rate level
A/B testing at numerous levels – This can range from simply testing a different call-to-action to switching out different landing pages to find what works.
In-depth Google Analytics review, delving into the flow of traffic through your site and isolating any drop-off points.
User Analysis
While doing an online business, it is highly essential to know what a potential customer wants. We at Premware services undergo an extensive analysis of user behavior, preferences and demographics to get a perfect knowledge of choices & their expectations. We scrutinize the most used keywords and track trends to understand the requirements of an average consumer. With a team of experts, we aim for creating an effective and result-oriented CRO strategy.
Conversion Funnel Analysis
Identifying the conversion parameters is a crucial part of any CRO strategy. Only considering an increase in traffic won't help in increasing the conversion. Therefore, we conduct an in-depth conversion funnel analysis, covering important factors such as website copy, design aesthetics, website usability, current conversion rate, and more. While doing so we can easily identify the improvement areas & rectify them accordingly.
Landing Page Design
The landing page serves as the most important aspect of a conversion rate optimization campaign as it helps in driving conversion. Our SEO experts analyze the required metrics and identify your strengths and challenges to design a perfect landing page. We make sure that the page has relatable content with appealing, and clear messages and minimum visual distractions to boost the rate of conversion.
A/B Testing
A/B testing of the business website is extremely crucial to verify whether it is delivering the desired user experience. Our team of experts at Premware Services, optimize your website with A/B testing to assure there are no glitches related to its speed and performance. Timely testing enables us to confront the issues and causes responsible for challenges such as bounce rate and cart abandonment.
Heatmap And Click-Tracking
Owning an appealing site with great UI & UX does not necessarily guarantee a high conversion rate. One should check whether the customers are clicking at the desired places and the CTAs are making the right impact. Being a leading conversion rate optimization company, with our expertise, experience and reliable services, we enable our clients with heatmap and click-tracking so that the true value of the pages can be known and seen.
Optimization Process
We optimize your landing pages and make sure that your site delivers the best UI and UX as well as serves powerful content. By testing each parameter, we ensure everything works perfectly and gives you desired results and conversions.
Why Choose Premware as your Conversion Optimization Company?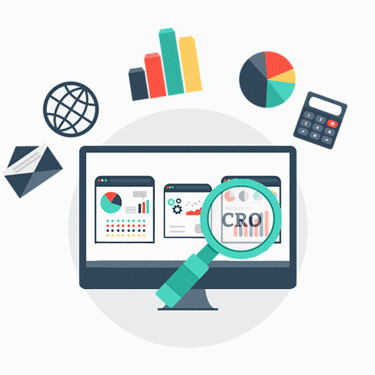 Data-driven strategy
Data plays an important role in our strategy. By accumulating & analyzing your web traffic data – where it's coming from, what visitors expect, and what the ideal call to action should be for each page, we then frame the CRO strategy accordingly. Later, we optimize based on live-updating A/B test data to increase traffic, clicks, leads, sales, and form fills. Once you share the desired results you need, we work on optimizing the conversion rates accordingly.
Optimizing social media ads
To survive the competition, social media marketing requires constant conversion rate optimization. At Premware Services, we make sure your social media ads run within the allocated budget. We work dedicatedly to deliver the best possible conversion rate for your campaigns with constant A/B testing, targeting, and audience building.
Clear & Precise reporting
Our team believes in transparent, clear communication & precise reporting about the work catered. Since the initialization of our CRO services, we notify our clients with details & the number of conversions they're receiving, the success of the campaign & a detailed report of the same.
Targeting the right audience
As an experienced, conversion optimization agency, we always start by identifying the ideal audience to reach. Depending upon the target, for some organizations, that's a small demographic in a specific location while for others it might be a worldwide audience with multiple or like interests. Based on the data collected, and analyzing which audience is most likely to convert, our experts make a strategy to reach & convert them.
A 360-degree management
Our CRO team adopts a 360-degree approach to analyze conversion rate issues and fix them. They evaluate everything, from your keyword strategy and mobile web design to your PPC (Pay Per Click) and social media ads. With a full planned strategy, we constantly work to optimize everything for the best possible conversion rates.
World-class support
We love to extend our support to all our clients as and when in need. With prompt support services, we aim to solve the problems and queries our clients raise and render desired results.
Struggling to convert your potential leads into customers? Connect with us & get the best Conversion Rate Optimization Services for desired results.
FAQsFrequently Asked Questions and Answers on Conversion Rate Optimisation
What are conversion rate optimization services?
Conversion rate optimization service is a part of digital marketing service. It is the process of optimizing website landing pages based on the behaviour of the users to improve the probability of the visitor taking desired actions (conversions) on the same page. It involves maximizing the effectiveness of your website by turning your visitors into customers.
What can help you analyze conversion rate optimization? What are the steps of conversion Optimisation?
You'll learn how to do conversion rate optimization:
User Analysis
Conversion Funnel Analysis
Landing Page Design
A/B Testing
Heatmap And Click-Tracking
Optimization Process
What is a good sent to conversion rate?
According to Webfx, A good conversion rate is above 10%, with some businesses achieving an average of 11.45%. Earning a good conversion rate places your company in the top 10% of global advertisers, which makes your conversion rate two to five times better than the average conversion rate.
How much does a CRO cost?
According to Invespcro, The top level CRO firms charge $16k/month per project. The middle level CRO firms will charge from $9k/month to $14k/month. And at the bottom level, you can find CRO firms that will cost from $3k/month to $5k/month. The cost of hiring a CRO agency will also depends on the country and project type.
What is conversion rate Optimisation in SEO?
Conversion rate optimization is the process of increasing the percentage of website visitors into customers. It can be done by taking a desired action by visitors like filling out a form, generating an inquiry, placing an order, etc.
How does conversion rate optimization work?
Conversion rate optimization increase the percentage of your site visitors who complete a desired goal, such as filling out a form, purchasing a product or downloading an eBook.
Why is Conversion Rate Optimization Important?
Conversion rate optimization is important because it improve the marketing return on investment, enhance the UX on website, increase engagement on site, and improve the website traffic quality. By optimizing your conversion rate you can increase revenue per visitor, acquire more customers, and grow your business online.