ASO (App Store Optimization)
What is App Store Optimization?
App Store Optimization is the process of improving the visibility of mobile applications on app stores so that the app is more often found by users leading to increased downloads.
The goal of ASO primarily is always app downloads, but its secondary goals also include:
Increased brand exposure
Positive app reviews and ratings
Audience engagement
Additional marketing channel diversification
Our Approach to App Store Optimization
With the advancing technology & developments, the businesses are becoming more tech-savvy & instilling various channels of marketing to reach their potential customers & increase their profit by providing superior services.
App Store Optimization (ASO) is the current trend in the world of digital marketing, and businesses are quite optimistic to explore the possibilities offered by the technology and use it for their growth & success.
At Premware Services, we utilize unique marketing factors to increase the reach of your application, increase brand visibility, multiply your download numbers and bring you amongst the top in your industry category in the app ranking.
Our ASO strategy is based on understanding the customers, the competitive landscape, and the utility of your application. Research is our core, and implementing the gathered information in the best possible way to deliver the desired output is what we strive for.
1.  Keyword Research for ASO
Being amongst the leading digital marketing company, we understand that both the Google Play store and the iOS App Store have unlike approaches to ASO.  When considering the keyword research for ASO, the App Store allows 100 characters while the Play Store allows 4000-characters to determine search results. Our team of ASO experts, use popular licensed tools to understand the language and keywords customers are generally searching for, ones targeted by the competitors, and those that will drive the most traffic.
2. App Title
For an app to trend, its functionality & ease to use it is the most important factor but App's title also plays a significant role in landing up amidst the app rankings. It is generally recommended by the App experts that the App name or title, needs to be unique, relate to the brand, and has relevant keywords that drive search results. Our team helps in suggesting appropriate & unique titles which increases your brand visibility & ranking.
3. App Description
While downloading any new app, the user will surely read the description, understand it & then decide whether it's apt for his requirements or not. Therefore, the app description plays the role of inviting customers to download your app by specifying its usage & benefits in detail. Simple, concise and updated descriptions will drive downloads. Our ASO experts help you to frame an apt description with trending keywords for easy understanding of customers.
4. App Reviews & Ratings
Even after reading the description, users tend to read the reviews of the app and then decide to download based on the real experiences of the reviewers. Hence, the most important factor in app rankings is the volume and quality of reviews and ratings. One should always encourage ratings and reviews from happy customers. We help in analysing existing reviews, increase the volume of positive-sentiment ratings, and leverage feedback to improve ASO.
5. App Logo
It is rightly said that visuals attract more than words. Your app logo is the first impression of your brand which can help attract users to download it. An appealing logo is generally in bright colours, unique in shape and possess an image that showcases your brand. For increasing visibility & ranking a unique & attractive logo is a must. We help in creating amazing brand logos.
6. App Screenshots
App Screenshots play the role of previewing your app & its offerings in functionalities. This allows potential users to visualise your app and thereby increase downloads. We help in the proper formatting of the series of screenshots to make your users gain the desired information & thus download the app.
7. App Publisher Name
Adding publisher name is a great practice to make users aware of your company and other apps that have been developed by you. Moreover, publisher name and reputation also drive app searchability.
8. App Category
Choosing an appropriate category is extremely important to increasing your app ranking & visibility. Considering your app's best-fitted category, your users' mindset and competitor categories are essential for ASO strategy. In the iOS App Store, you can pick a primary and secondary category for your application while in the Google Play Store, you can only pick one category.
9. App Download
Once the user downloads the app; app engagement and customer retention are the next challenges to consider. Adding incentivisation, personalisation, taking user feedback, as well as frequent updates, bug fixes to the app are some of the strategies used by us for retaining customers.
Why choose Premware Services as ASO Service Provider?
Being amongst one of the premium ASO service experts, we aim to increase traffic on our client's mobile application by implementing the best of ASO strategies Here are some reasons to support why to choose Premware?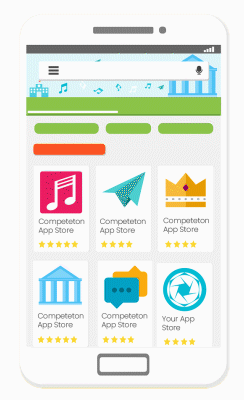 1.  Dedicated Project Manager
Assigning a project manager, irrespective of the size of the project requirements, is what we believe in for a proper understanding, planning & smoother working. The primary responsibility of the project manager is to deliver high-quality results regularly.
2. Usage of best ASO tools
We prefer using the best ASO tools which provide accurate data to help us optimize your app page and boost your rankings.
3. Increased Revenue & ROI
Only developing a strategy for apps won't help, a desired ROI is what is needed to measure the efforts spent. We always aim to improve our client's revenue which leads to an increase in their ROI.
4. Timely Reporting
We work dedicatedly & effortlessly work to assure that our clients are updated with the latest performance reports. These reports also help us to work on the dropbacks and improve our future performance.
Want to design a mobile app? Or looking for ASO service?
For the best solution & superior mobile app optimization services, connect with us today.